The Miami Heat are facing a tough challenge in the NBA Finals against the Denver Nuggets, but they might get a boost from the return of their young star Tyler Herro. The 23-year-old guard has been out since the first round of the playoffs after breaking his right hand in Game 1 against the Milwaukee Bucks. He underwent surgery to repair the third and fourth metacarpal of his right hand and was expected to miss at least six weeks.
Did Was Tyler Herro's Hand Surgery Botched by Doctors?
However, some conspiracy theorists have raised doubts about the success of Herro's surgery after a report from Ros Gold-Onwude, a sideline reporter for ESPN. Ahead of Game 2 of the NBA Finals, Gold-Onwude revealed that Herro had soreness and swelling in his right hand, and was feeling pain when making the follow-through shooting motion.
Some fans took her report as proof that the surgeons may have botched Herro's hand surgery and that he might not be able to play at his full potential. They speculated that the Heat were hiding the truth about Herro's condition, and that he might suffer long-term consequences from his injury. Some even suggested that Herro should sue the doctors who performed his surgery for malpractice if the conspiracy theory ends up being proven true.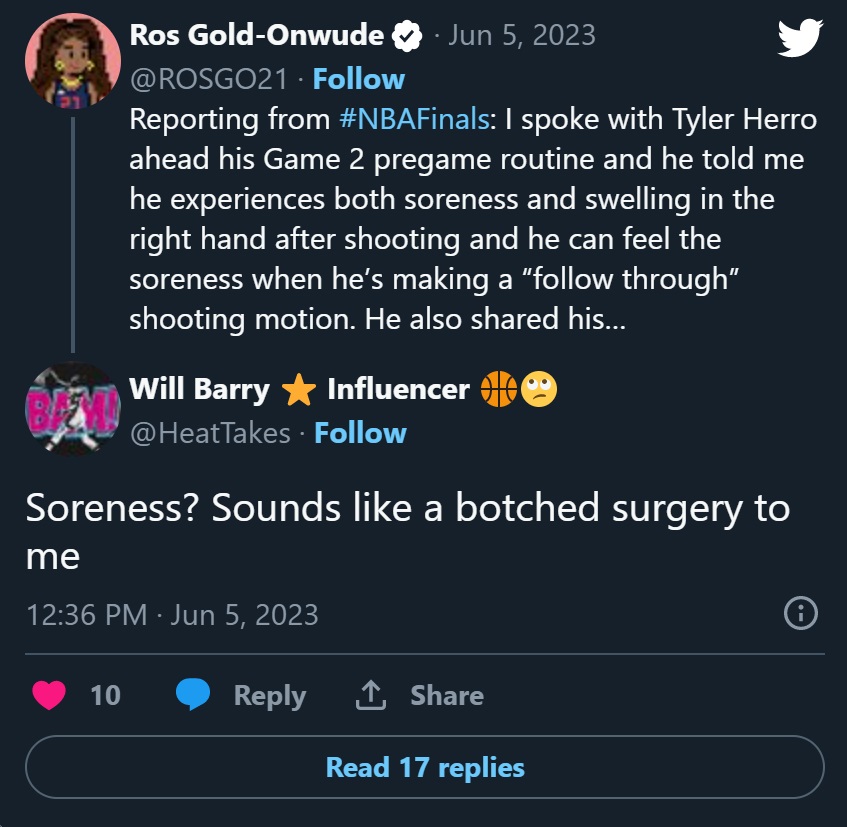 Herro is one of the most promising young players in the league and has shown his talent and clutchness throughout his career. He was a key contributor to the Heat's success. He is a versatile scorer who can shoot from anywhere on the floor, and create his own shot. He is also a fearless competitor who thrives under pressure, and does not back down from any challenge.
However, Herro's return could actually be detrimental for the Heat, who are tied 1-1 in the NBA Finals. While he would provide them with another offensive weapon, he could ruin the chemistry the team has developed without him on the floor. The big question for him is whether or not he would be willing to take a step back, and be a role player coming off the bench for the remainder of the Finals. Of course all this wouldn't matter if his hand surgery was really botched.