According to a report from Dan Rafael, a renowned boxing journalist, female boxer Alycia Baumgardner was using steroids before her fight with Christina Linardatou on July 15, 2023, based on drug test results. Baumgardner, who is the undisputed women's 130-pound champion, allegedly tested positive for the steroid mesterolone, a banned substance by the World Boxing Council (WBC) and the World Anti-Doping Agency (WADA).
Who Allegedly Caught Alycia Baumgardner Using Steroids?
Rafael reported that four sources obtained paperwork showing that Baumgardner tested positive for mesterolone during a urine test conducted by Drug Free Sport, an independent anti-doping agency, three days before her fight with Linardatou. The positive results did not come back until August 10, 2023, almost a month after the fight. Baumgardner won the fight by unanimous decision, retaining her four belts and adding the WBC Diamond title to her collection.
The paperwork allegedly revealed that Baumgardner's urine sample had a concentration of 2.1 ng/mL of mesterolone metabolites, which is above the WADA threshold of 1 ng/mL. The paperwork also showed that Baumgardner was notified of the positive test on August 11, 2023, and was given the option to request a B sample analysis or accept the findings and face disciplinary action.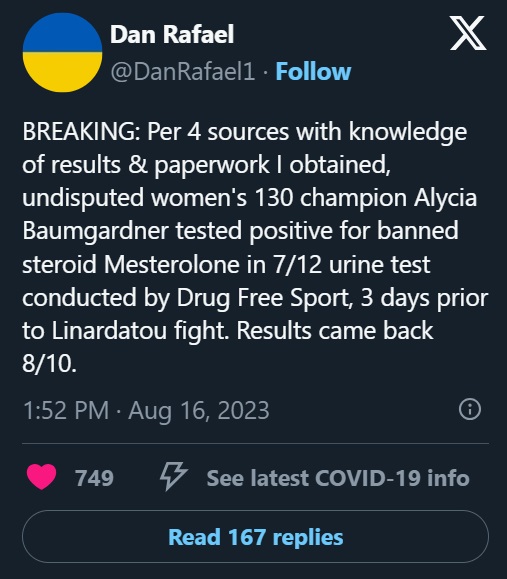 How Mesterolone Impact a Female's Body?
Mesterolone is an oral synthetic androgen and anabolic steroid (AAS) that is similar to dihydrotestosterone (DHT), a natural hormone that is responsible for male characteristics. Mesterolone has strong androgenic effects and weak anabolic effects, which make it useful for producing masculinization in a female. This could explain why Alycia appeared to have gained a significant amount of muscle over the past few months, especially in the neck area.
Mesterolone can increase the performance and recovery of an athlete by enhancing the effects of testosterone, increasing muscle hardness and density, and decreasing the side effects of other steroids when taken together. However, mesterolone also has several health risks and side effects, such as acne, hair loss, increased body hair growth, voice changes, increased romantic desire, liver damage, prostate enlargement, aggression, depression, and infertility.
Mesterolone is banned by most sports organizations because it is considered a performance-enhancing drug that gives an unfair advantage to the user. Mesterolone is also a controlled substance in many countries and so non-medical use is generally illicit.
The positive test for mesterolone by Baumgardner could have serious implications for her career and reputation as a boxer. If the test is confirmed by a B sample analysis or accepted by Baumgardner, she could face sanctions from the WBC and WADA, such as fines, suspensions, or bans. She could also lose her titles and rankings as a champion and face legal action from Linardatou's team or other parties.
The positive test could also damage Baumgardner's credibility and legacy as a boxer. Baumgardner has been hailed as one of the best female boxers in history. She has been praised for her skills, power, speed, and charisma in the ring. However, the positive test could cast doubt on her achievements and tarnish her image as a role model for women in sports.
The alleged positive test for mesterolone by Alycia Baumgardner is a shocking and disappointing news for the boxing world. It remains to be seen how this situation will unfold and what consequences it will have for Baumgardner and women's boxing.