A mugshot of a 50 year old man named James Gina III is going viral after he allegedly killed his girlfriend near Desert Inn and Eastern in Las Vegas. The mugshot shows Gina's face covered in tattoos, including a pair of glasses tattooed around his eyes, and goat horns tattooed on his forehead.
According to the Las Vegas Metropolitan Police Department, Gina was arrested on Monday, August 14, 2023, after officers responded to a report of a woman who was not breathing at an apartment complex. The victim allegedly identified as 28-year-old woman, was pronounced dead at the scene.
The police allegedly took Ginan into custody without incident, and booked him into the Clark County Detention Center on one count of 1st degree murder with a deadly weapon.
The mugshot of James Gina III quickly spread on social media, where many people commented on his unusual facial tattoos. Some people said that the glasses tattoo was a sure sign of insanity, and that they were not surprised that he was accused of murdering his girlfriend.
Others said that the tattoo was a clear sign that he wasn't good at making good life decisions. It's not every day you see any person with a pair of glasses tattooed on their face, yet alone a person in a mugshot. How crazy would it be if he has bad vision, with glasses permanently drawn on his face?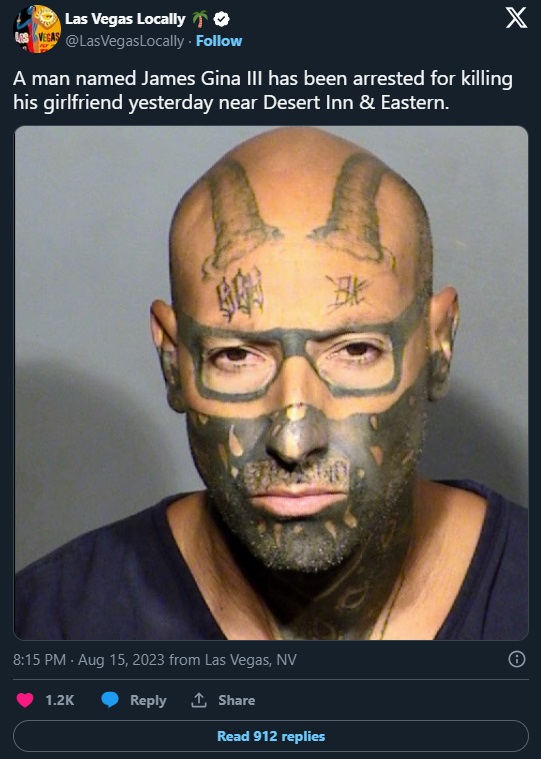 The police have not revealed the motive for the killing, or any specifics about the relationship between Gina and Smith. They have also not confirmed whether Gina had any prior criminal record, or history of violence. Gina is expected to appear in court for a preliminary hearing later this month according to some reports.
Could James Gina III be the first criminal in history with a glasses and goat horns tattoos?