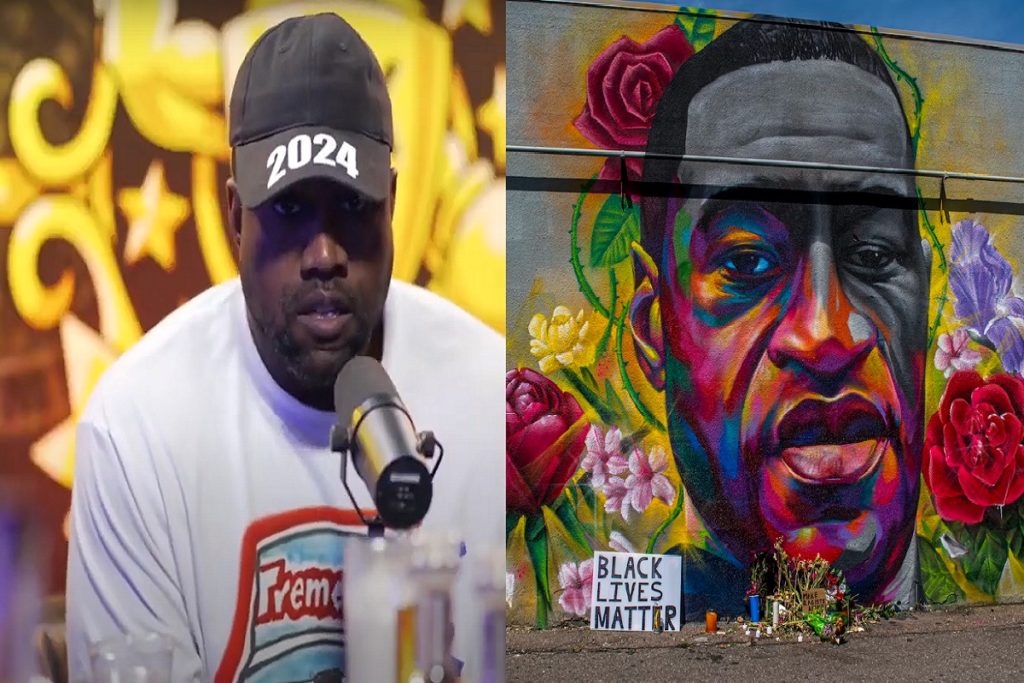 There's no doubt Kanye West is one of the bravest rappers of all time when it comes to speaking his mind in public despite the consequences and backlash his words might cause. In some ways he like the Hip-hop version of Kyrie Irving. Recently he was on Drink Champs, and revealed what he believes was the true cause and reason of George Floyd's death.
Did Derek Chauvin Slip George Floyd Fentanyl? Kanye West's Fentanyl George Floyd Death Conspiracy Theory and Comparison to Virgil Abloh During Drink Champs Interview Goes Viral
Official records state that on May 25, 2020 Derek Chauvin murdered George Floyd by kneeling on his neck for almost 10 minutes. During the trial it was revealed that the position of his knee on Floyd's neck blocked blood flow and oxygen to his brain. The conditions were exasperated by a heart condition Floyd allegedly already had. Derek Chauvin received a sentence of 22.5 years from the crime after being found guilty.
Despite the above facts Kanye West is convinced that Derek Chauvin didn't kneel on George Floyd's neck, and his death was the result of overdosing from a powerful drug. During his Drink Champs interview Kanye West claimed that George Floyd died from a Fentanyl overdose. Kanye West says if you watch the video of George Floyd's death closely that you'll notice Derek Chauvin's knee wasn't on his neck. He believes you can see the police officers secretly slip George Floyd Fentanyl, which caused him to suddenly die. He came to this conclusion after watching Candace Owens' George Floyd documentary.
It seems Kanye West is insinuating that George Floyd was preselected to be murdered due to his physical stature and race. As you'll hear in the beginning of the clip below the first thing he mentions noticing from Candace Owens' documentary is that George Floyd's roommates allegedly claimed that he was saying "they want a tall guy like me". Kanye compared it to Virgil Abloh's death, and how Louis Vuitton is now allegedly profiting off it. What he's trying to convey is a very deep, but it does it make sense?
There's one point in particular that makes Kanye West's George Floyd conspiracy theory tough to believe. If Derek Chauvin slipped him Fentanyl there's a high chance that he himself would have overdosed from it as well. The drug is so powerful that just coming in contact with it can lead to a deadly overdose situation such as what happened to a couple at McDonald's. Usually when police handle Fentanyl they wear very thick gloves, but none of the cops around George Floyd had on gloves in the video.
If George Floyd overdosed on Fentanyl the truth would have most likely come out by now, but maybe Kanye is on to something.