Sad news has rocked the fashion and Hip-hop world, the legendary Virgil Abloh is dead at 41 years old from the rarest type of cancer a human can get. His passing comes as a surprise to many, because he kept the issues with his health very private from the public eye. His death was first announced in a heartbreaking message from Louis Vuitton.
What Type of Rare Cancer did Virgil Abloh Have?
According to reports Virgil Abloh had heart cancer. More specifically he had cardiac angiosarcoma, which causes tumors to grow on the heart muscle. This is very unexpected, because heart cancer is one of the most rare cancer's on earth, so much so that it almost never happens. In fact based on studies by the Mayo Clinic they only see about 1 patient per year diagnosed with heart cancer. World wide about 2 in 100,000 people get Heart Cancer per year.
Why is Heart Cancer So Rare?
All forms of cancer start with mutations of healthy cells, which usually happens due to environmental factors, and less often genetics. The heart muscle never comes in contact with the outside the world, or anything else beside your own blood that has already been filtered and purified by the kidneys.
In addition Heart cells are extremely difficult to regrow or regenerate, which would also inhibit the growth of a cancerous tumor. These qualities makes it almost impossible for a cell mutation to happen on the heart muscle, which is why heart cancer is one of the rarest types of cancer. When it does it happen it's usually due to cancer spreading from another part of the body. Most people don't know anyone who had heart cancer.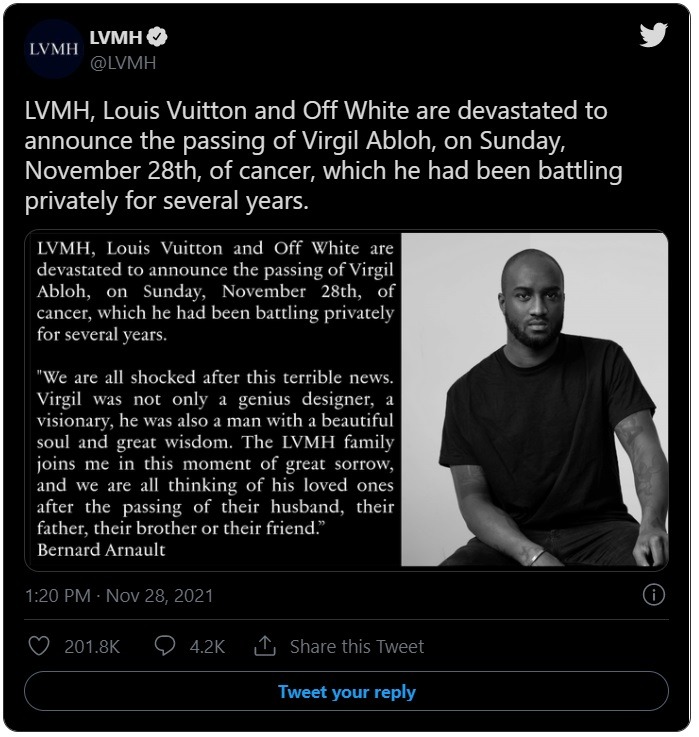 BTS and Celebrities React to Virgil Abloh Death
On social media many celebrities from all backgrounds have posted messages about Virgil Abloh's death. South Korean K-Pop band BTS' reaction to Virgil Abloh dead was the most viral post seen on social media.
In BTS' statement about Virgil Abloh's passing they said,
'RIP Virgil Abloh , you will be missed. It was an honor to work with you. A true creative genius.'
Lauren Sherman reacted to Virgil Abloh dead saying,
"Virgil Abloh lived the s*** out of his life — let that be the lesson."
She was trying to see the positive aspect of the situation by focusing on how much he enjoyed living.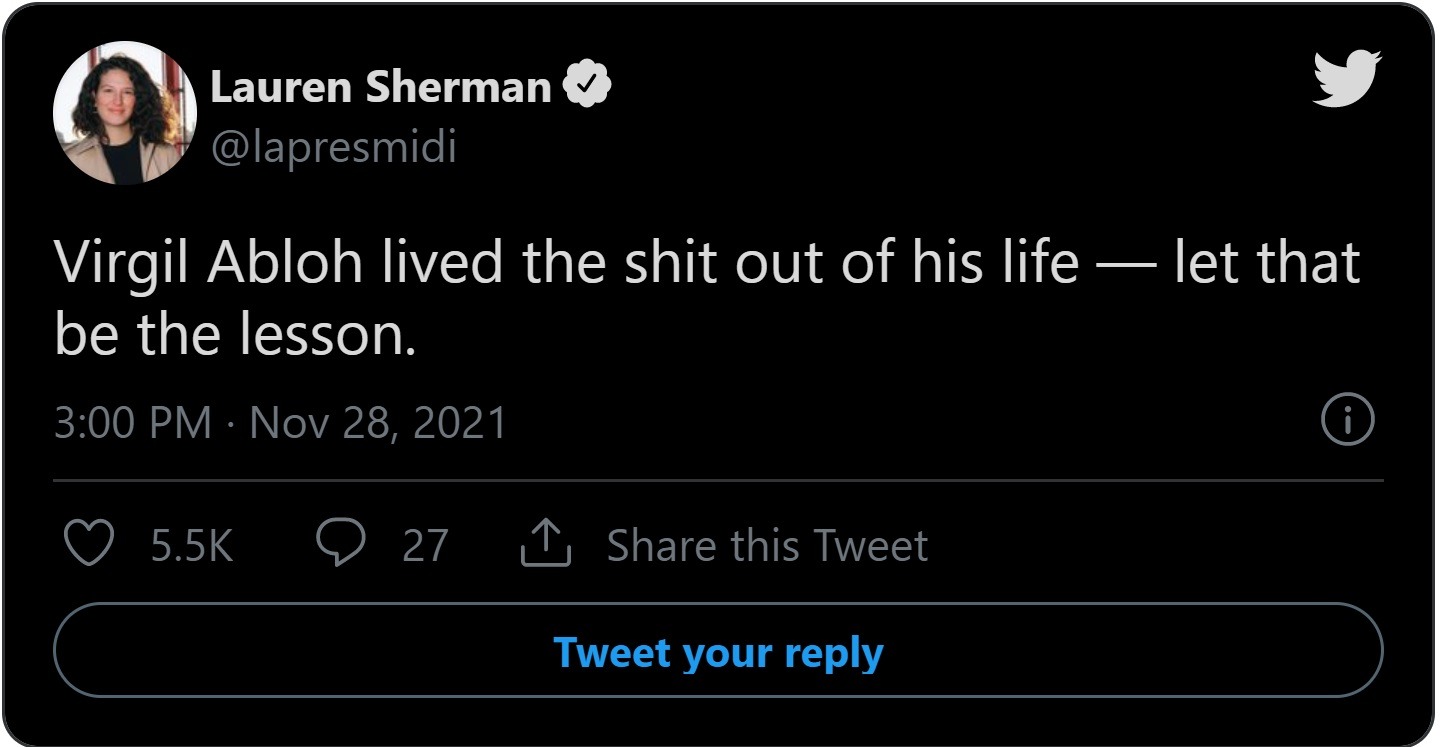 Gucci reacted to Virgil Abloh's passing with a long message saying,
"We would like to extend our most heartfelt condolences to the loved ones of Virgil Abloh, an immense inspiration to us all both as a designer and as a person. He will be deeply missed though his vision will live on through the trails that he blazed throughout his career."
J'na Jefferson just hoped that Virgil Abloh would rest in peace.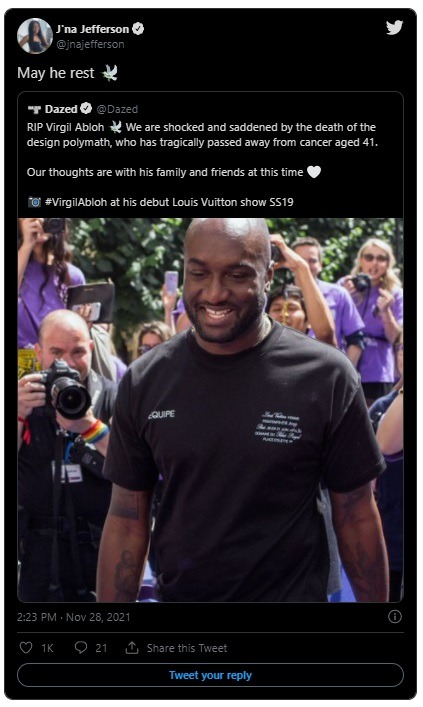 Virgil Abloh's Legacy in Hip-Hop
Although most known for his presence in the fashion world, Virgil Abloh had a profound affect on the hip-hop industry, most notably Kanye West. Virgil Abloh conceptualized the album covers for Kanye West's My Beautiful Dark Twist Fantasy, Watch the Throne, and Yeezus. On social media you would often times see him hanging out with Kanye West as well.
RIP Virgil Abloh.
Authors: JordanThrilla Staff