Victor Noir was a young French journalist who died tragically in 1870, at the age of 21, after being shot by Prince Pierre Bonaparte, a cousin of Emperor Napoleon III. His death sparked a public outcry and a political scandal, as he became a symbol of opposition to the imperial regime. His funeral was attended by thousands of people who mourned his loss and protested against the injustice. The statue that was built to commemorate him has become very popular among woman for some very strange reasons.
Victor Noir's Early Life and Career
Victor Noir was born Yves Salmon on July 27, 1848, in Attigny, Vosges, the son of a Jewish cobbler who had converted to Catholicism. He adopted Victor Noir as his pen name after his mother's maiden name. He moved to Paris and became an apprentice journalist for the newspaper La Marseillaise, owned and operated by Henri Rochefort and edited by Paschal Grousset. La Marseillaise was a radical republican newspaper that opposed the authoritarian rule of Napoleon III, who had seized power in a coup d'etat in 1851.
The Fatal Duel: How Victor Noir Died
In December 1869, a dispute broke out between two Corsican newspapers, the radical La Revanche, inspired from afar by Grousset; and the loyalist L'Avenir de la Corse, edited by an agent of the Ministry of Interior named Della Rocca. The invective of La Revanche concentrated on Napoleon I, the uncle of Napoleon III and the founder of the Bonaparte dynasty.
On December 30, L'Avenir published a letter to its editor authored by Prince Pierre Bonaparte, the nephew of Napoleon I and the cousin of Napoleon III. Prince Bonaparte castigated the staff of La Revanche as cowards and traitors. The letter made its way from Bastia to Paris. Grousset took offense and demanded satisfaction. In the meantime, La Marseillaise lent strong support to the cause of La Revanche.
On January 9, 1870, Prince Bonaparte wrote a letter to Rochefort, claiming to uphold the good name of his family. On the following day, Grousset sent Victor Noir and Ulrich de Fonvielle as his seconds to fix the terms of a duel with Pierre Bonaparte. Contrary to custom, they presented themselves to Prince Bonaparte instead of contacting his seconds. Each of them carried a revolver in his pocket.
Noir and de Fonvielle presented Prince Bonaparte with a letter signed by Grousset, but the prince declined the challenge, asserting his willingness to fight his fellow nobleman Rochefort, but not his "menials" (ses manœuvres). In response, Noir asserted his solidarity with his friends.
According to Fonvielle, Prince Bonaparte then slapped his face and shot Noir dead. According to the Prince, it was Noir who took umbrage at the epithet and struck him first, whereupon he drew his revolver and fired at his aggressor. That was the version eventually accepted by the court.
Why Do Millions of Woman Touch Victor Noir Statue's Crotch Each Year?
Victor Noir is not only remembered for his tragic fate. He is also famous for his bronze statue, sculpted by Jules Dalou and erected in 1891 at the Père Lachaise Cemetery, the largest and most visited cemetery in Paris. The statue depicts Victor Noir lying on the ground, as if he had just been shot, with a realistic expression of pain and surprise on his face. He wears a frock coat, a waistcoat, trousers, boots, and a hat.
What draws the most attention from women is the prominent shape of his crotch under his trousers. The myth behind women molesting Victor Noir's statue, is the belief that by touching his groin area it will bring people who want to have children good fortune.
In fact many women believe that touching the statue's right foot will make them have one child, while touching his left foot will give a woman twins in the future. As you'll see below those parts of the statue are discolored from so many women touching the same location.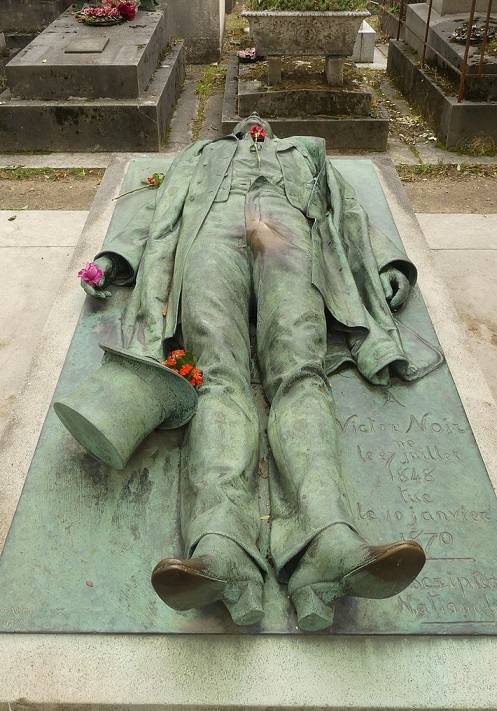 The origin of this peculiar ritual is unclear, but some believe that it dates back to the 19th century, when women who wanted to have children would visit Noir's grave and pray for his intercession. Others say that it started in the 1970s, when a group of feminists decided to pay homage to Noir as a symbol of sexual liberation and male fertility.