If you have been on social media lately, you might have come across the viral sensation known as the "Home Depot girl". She is a stunning influencer and a Home Depot employee who has caught the attention of millions of people, including NBA legend Shaquille O'Neal. But who is she and what is her story? Here are some facts you need to know about Ariana Josephine, the viral Home Depot girl.
Who is Ariana Josephine?
Ariana Josephine is a 22-year-old video content creator who is passionate about faith, fashion, lifestyle, and beauty. She is allegedly a University of Houston student, and of course a Home Depot employee in Texas. She has more than 50,000 followers on Twitter and 112,000 on Instagram under the username "ariijosephine", where she posts stunning pictures of herself and vlog-style videos. She also has a YouTube channel with over 2,000 subscribers, where she makes lifestyle and fashion-related content.
Ariana is of the Christian faith and often shares videos talking about the Christian religion's take on various walks of life. She describes herself as "a lover of Jesus" and "a lover of people" on her Instagram bio.
How Did She Go Viral?
Ariana became an internet sensation after a tweet praising her for working at Home Depot instead of joining OnlyFans went viral. OnlyFans is a subscription-based platform where creators can post exclusive content, often of adult nature, for their fans. The tweet allegedly said: "She works at Home Depot instead of making an onlyfans. We need more women like this."
The tweet sparked a lot of reactions from people who either agreed or disagreed with the sentiment. Some people praised Ariana for choosing a blue-collar job over exploiting her body and looks, while others criticized the tweet for shaming adult workers, and implying that women who join OnlyFans are less worthy.
Did Shaq DM the Home Depot Girl Trying to Smash?
Ariana's fame grew even more after she revealed that she received a DM from none other than Shaquille O'Neal, the former NBA star and current analyst. In her Instagram story, Ariana shared a screenshot of Shaq's message to her, which read: "Don't let them people bother u. Don't read the comments stuff like that will drive u crazy".
Ariana thanked Shaq for his kindness and encouragement, to which he replied: "Have a great day tell all your boyfriends I said hello lol." Ariana captioned the story: "When Shaq text you know you doing something right okay!". Some social media users were quick to assume that Shaq was trying to flirt with Ariana or hit on her, especially since he was recently seen on a date with influencer Brittany Renner, who shares a child with NBA player PJ Washington.
However, Shaq denied any romantic intentions and said that he was just trying to uplift Ariana and make her feel better. He said: "Just uplifting people that's what the diesel do baby I uplift people google me."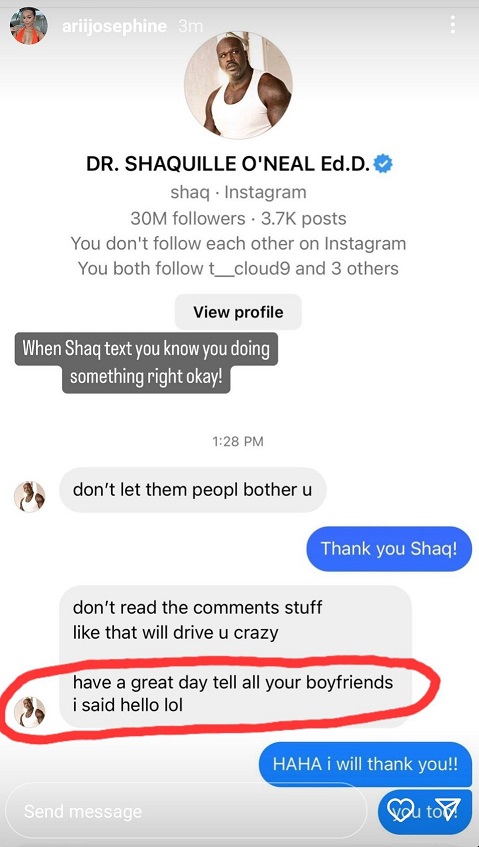 Does the Viral Home Depot Girl Ariana Josephine Have an OnlyFans?
Despite a viral tweet that may have suggested otherwise, Ariana does not have an OnlyFans account, and probably has no plans to create one. As aforementioned many people have praised Ariana for her decision to not join OnlyFans, and to work at Home Depot instead. They have also complimented her for her beauty, personality, and faith. Some have even called her a role model and an inspiration for young women.