The Los Angeles Clippers are going through a rough patch, losing their fifth straight game on Monday night to the Memphis Grizzlies, who were 1-8 on the season. The Clippers, who have added star guard James Harden to their roster in a blockbuster trade, have struggled to find their rhythm and identity on both ends of the floor. Now it has Tyronn Lue dropping F-bomb on the reporters.
Why Did Ty Lue Say the F-word While Talking About the New James Harden System?
One of the main issues that Clippers coach Tyronn Lue pointed out in his postgame interview was the lack of pace and aggressiveness in their offense. Lue, who is known for his calm and composed demeanor, accidentally dropped an F bomb while expressing his frustration with his team's performance as an offensive unit since Harden arrived.
"We're just playing too slow. Like we get rebounds, we get stops, we got to push it. On makes we got to push it, get it up quick, and attack early. You know we can't just f*******. We can't just walk around offensively" Lue said, before catching himself and apologizing.
Lue then laughed at himself for a few moments before finishing the interview as if nothing happened. He also praised the Grizzlies for their effort and execution, and said that the Clippers have to work harder and smarter to get out of their slump.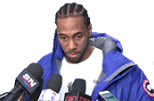 Ty Lue is clearly frustrated, and even though there is calm demeanor on the surface, that F-bomb curse word could be proof that in his mind there is a storm brewing. The question is which one of the 4 stars will be the most impacted when it settles. Most likely it will be Russell Westbrook due to politics.