When people talk about potential trade scenarios that could change the Lakers' trajectory the names most often brought up are Buddy Hield and Myles Turner. Both are seen as perfect compliments to the style of offense that Lebron likes to run. However, if Lakers could somehow pull it off acquiring Gordon Hayward would be the ultimate poker move, and it appears he might think so too.
Did Gordon Hayward Like a Tweet about Getting Traded to Lakers and Anthony Davis Being Injury Prone?
Over the summer there were reports alleging that Gordon Hayward asked for trade. At times it's easy to see he doesn't like being the afterthought on offense behind Lamelo, Terry Rozier, and Miles Bridges he comes back. It appears he possibly silently spoke his mind on the situation in the form a strange action on his Twitter account. Twitter user 'theblackpope' claimed that Gordon Hayward liked a tweet about a Lakers trade sending him to Los Angeles in exchange for Russell Westbrook. In this tweet were Mr. Glass jokes about Anthony Davis being injury prone.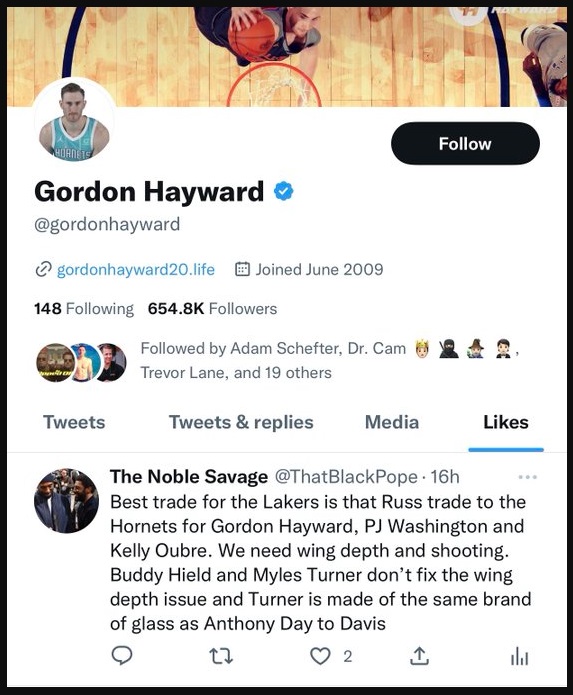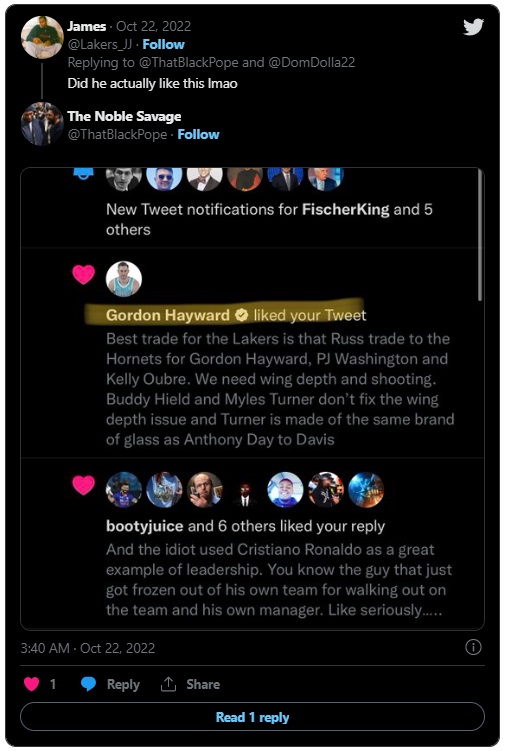 These days nothing ever seems to go as planned for the Lakers, so it won't be surprising if they don't end up getting any of the aforementioned players.