In what was a tough game of runs the Nuggets managed to pull out a win on the Warriors on day where Jamal Murray didn't suit up for injury management. Nuggets built up a massive 20 point lead, but Warriors went on their patented third quarter run that eventually got things close again. With clutch plays down the stretch and intense defense the Nuggets survived the rally. The most viral play of the game was situation that happened between two Warriors superstars, and Nuggets' MVP center.
Did Jordan Poole and Draymond Green Intentionally Injure Nikola Jokic's Leg? New Evidence Sparks Conspiracy Theory
In basketball there is an unwritten rule that's practiced at every level that you never dive for the ball when you can clearly see an opponent's legs are in the way. During a scrum for a lose ball Draymond Green dove into Nikola Jokic's leg injuring him, and leaving him withering in pain near the baseline, luckily it wasn't serious. When plays like this happen one of the first questions that come to mind if it was an intentional dirty play. Something strange Jordan Poole did prior to Draymond Green's dangerous dive has some people convinced it was a tag team effort to inflict damage on Nikola Jokic.
In the video below look closely at how it seems like Jordan Poole was trying to trip Nikola Jokic, almost as if he was setting him up for Draymond Green to dive into his leg. Considering how Poole stuck his leg out so unnaturally it's easy to see why people think it was dirty play, but it's possible he was just trying to kick the ball, which would have led to a side out for the Nuggets. Nevertheless the incident makes some people think of how he grabbed Ja Morant's knee in the playoffs during a lose ball tussle. Do you think this was an orchestrated act meant to injure Nikola Jokic, or just a huge coincidence?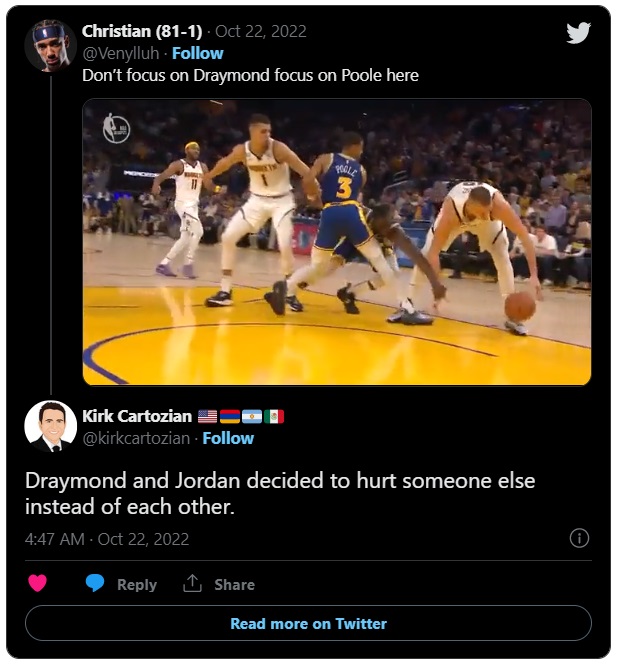 Nikola Jokic finished he game with a triple double of 26 points, 10 assists, and 12 rebounds on only 13 shots. His 11 free throws attempts are proof of how aggressive he was in the paint. On the Warriors end Stephen Curry had 34 points on 22 shots, while their $140 Million man Jordan Poole only scored 7 points on 2-5 shooting in 27 minutes.