Recently Zion Williamson the star player of the New Orleans Pelicans, faced serious allegations of domestic violence from his ex-girlfriend Moriah Mills, a former adult film actress and hip-hop artist. Mills posted a video on her TikTok account @moriahmilly last week, claiming that Williamson had abused her physically during their relationship, and that he had failed to send her $62,000 that he had promised her since June.
In the video, Mills appeared to be on the verge of crying as she explained to the world how hurt she was by Williamson's actions. She seemed to imply that he had allegedly beaten her several times, but she never told anyone and decided to stay with him.
You may remember that she also claims cheated on her with another woman, Ahkeema, who is pregnant with his first child. Mills said that she decided to expose Williamson to the public so that the NBA would be aware of his behavior, and take action against him.
Mills' video has sparked a lot of reactions on social media, with many people expressing their opinions on the matter. Some people have supported Mills, saying that she is brave for speaking out and that Williamson should be investigated for his alleged crimes.
Others have doubted Mills' credibility, saying that she is lying to get attention and to ruin Williamson's reputation and relationship with Ahkeema. Some have also pointed out that Mills has a history of drama and controversy with other celebrities.
Is Zion Williamson Suicidal Because of Moriah Mills?
Not too long after Moriah Mills' abuse allegations went viral, Zion Williamson posted an IG story where he used lyrics from Biggie Smalls' song "Suicidal Thoughts". The song has very dark lyrics such as the line where the Notorious B.I.G. says, "I can't believe suicides on my f****** mind, I want to leave". Not only that the song is from the album "Ready to Die".
Could this mean that Zion Williamson is thinking about committing suicide, because Moriah Mills is trying to expose him as a woman beater? Could this be a sign that there is truth to her words?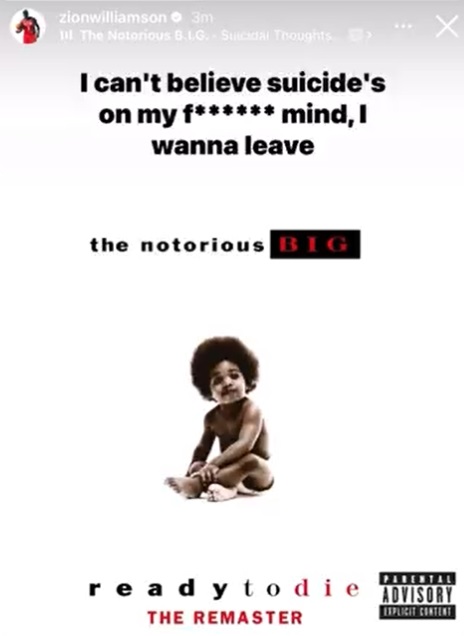 Williamson is one of the most talented and popular players in the NBA, having been selected as the first overall pick in the 2019 NBA draft by the Pelicans. He has been named to two All-Star teams and has signed a five-year contract extension worth $193 million with the Pelicans in 2022.
However, he has also struggled with injuries and conditioning issues throughout his career, missing most of the 2020-21 season with a foot injury and playing only 29 games last season due to a hamstring injury.
Mills is a well-known figure in the entertainment industry, having starred in several adult films and music videos. She has also launched her own music career under the name Moriah M. She has a growing following on Instagram and TikTok, where she posts videos of herself dancing, singing, and showing off her lavish lifestyle.
Zion has a bright future of ahead for himself, and has a child on the way. Hopefully he isn't really having suicidal thoughts. If he is hopefully there are people around him that can help.