The top story in the NBA world today was the surprising release of Spurs first round draft pick Josh Primo. Due to the vagueness around the situation many rumors have been spread on the internet regarding the reason behind him being cut so early in his career. At first there was an allegation that Josh Primo was being investigated for murder, but then another rumor began to spread about a situation involving an alleged sexual assault case. In this article we'll discuss how both rumors began, and Josh Primo's statement about his future.
Did Josh Primo Sexually Assault a Woman Who Works For Spurs Before He Was Released?
Spurs Reddit first alleged Josh Primo is under investigation for a sexual assault that took place outside Bexar County Texas. The reddit user who posted thread claims the information was coming from local law enforcement. Usually Spurs reddit takes down posts that may be fake news, but this one is still up as of this writing. Before the sexual assault allegation surfaced there was also a reddit thread claiming that Josh Primo was arrested due to a murder investigation. Now the rumor of sexual assault has been confirmed by Shams Charania.
According to Shams Charania's tweet Josh Primo exposed himself to a Spurs female employee. She has hired Tony Buzbee, who was the famous lawyer who represented women in their cases against Deshaun Watson. Take a look at how the rumors started, and the confirmation of the alleged sexual assault that took place.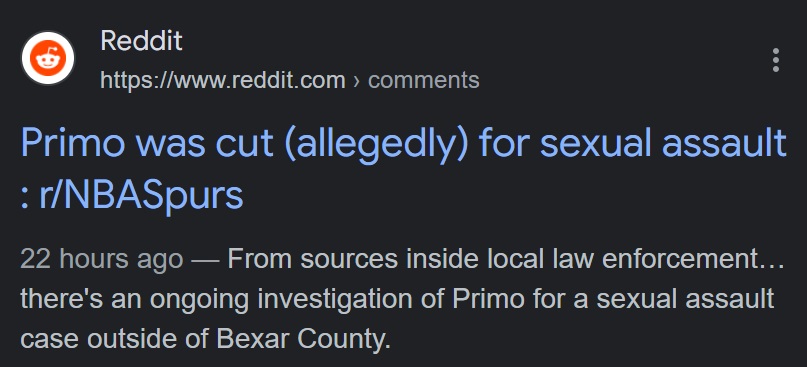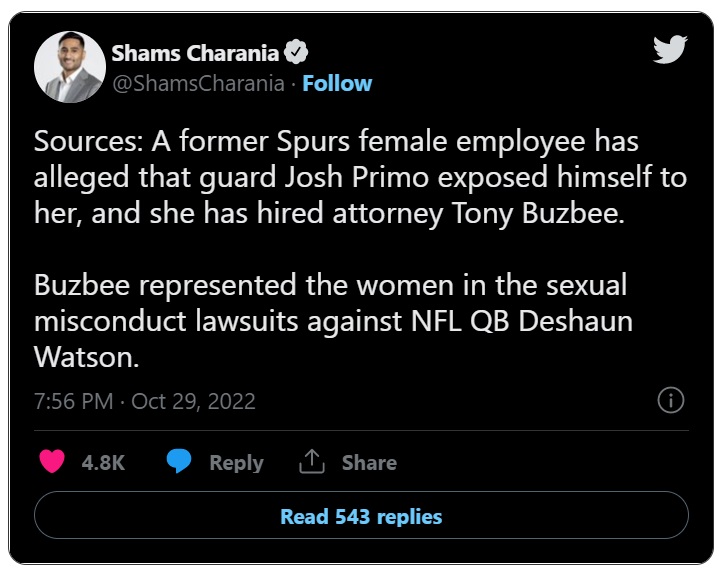 Josh Primo released a statement via ESPN, which stated he is going through a mental health issue from past trauma. He didn't elobrate in terms of any specific details about the trauma he went through. It seems he might be insinuating that the past trauma caused him to allegedly sexually assault the Spurs female employee.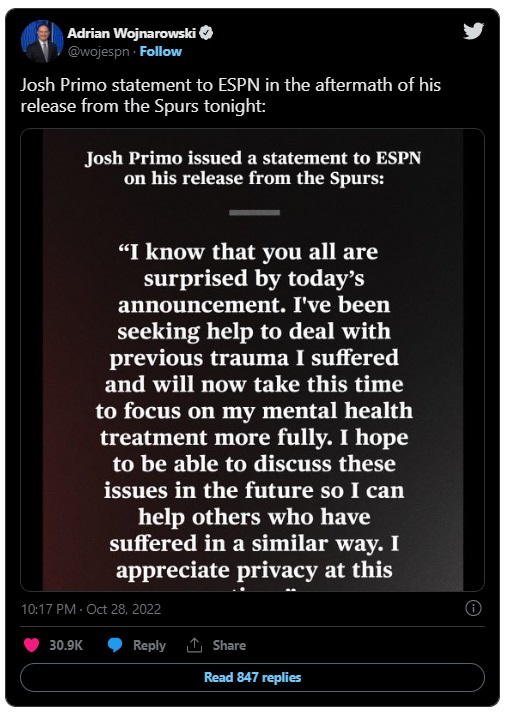 Josh Primo was Spurs first round draft pick in 2021. On the current season he was averaging 7 points per game on 35% shooting. His NBA career is definitely over now, unless he beats this case.