Markieff Morris fighting Demarcus Cousins during Lakers vs Rockets is going viral. This happened in the same game where Demarcus Cousins knocked out Lebron James.
The funniest part about the Markieff Morris vs Demarcus Cousins fight was the push that started it. When Markieff Morris pushed Demarcus Cousins he didn't even move one inch. Keep in mind Markieff Morris is known as one of the strongest bully players in the NBA.
"don't try shit. don't try it." pic.twitter.com/s4FUofvW4e

— Rob Perez (@WorldWideWob) January 11, 2021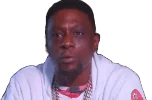 The commentators were confused about what started the Markieff Morris fight with Demarcus Cousins, but you could see the culprit in the beginning of the first video. Demarcus Cousins pushed Markieff Morris down like a little kid, which almost injured a Rockets player's knee.
Demarcus Cousins was later ejected from this game for knocking out Lebron James. It's clear tonight wasn't his night.
Author: JordanThrilla