When Celtics defeated Nets a few nights ago you could see how frustrated Kevin Durant and Kyrie Irving were at giving away a double digit lead late in the game. It was easy to see that they would come out with a vengeance their next game, and the Charlotte Hornets were their victim. In a dominating performance Nets blew out the Hornets, and Kyrie Irving had a historically night that included a moment with DaBaby.
Lavar Ball Watches Kyrie Irving Give DaBaby his Sweaty Jersey After Dropping a 50 Points on LaMelo Ball
Kyrie Irving made history scoring 50 points on 15/19 shooting, and 9/12 from three point range. He is now one of only two guards to ever score that amount of points on 75% shooting, the other being Michael Jordan.
In addition Kyrie is the only player in the NBA history to do this while making 9 threes.
One of the most valuable items NBA basketball players leave behind are game worn jerseys from historical nights in their career. During Kyrie Irving's 50 point masterpiece on LaMelo Ball, North Carolina native DaBaby was watching from the sidelines. After the game Lavar Ball watched as Kyrie Irving gave DaBaby his jersey while they exchanged words of respect for each other.
Lavar Ball was all smiles early on in the game, but was probably frowning as the night went on.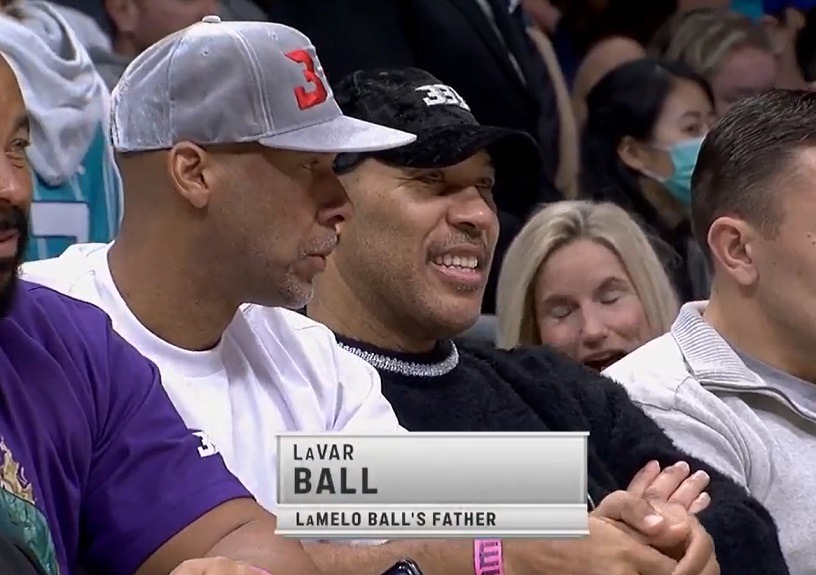 Kyrie Irving was in the zone, and couldn't be stopped. He was cooking so much that Kevin Durant had to take a backseat, and let him do his thing.
Most people would never guess that Kyrie Irving is a DaBaby fan, but you can never judge a book by its cover. Maybe Kyrie Irving listens to the edited version of DaBaby's songs since he's very against black people using the N word in any fashion.
The Nets are now 1 game ahead of Hornets for the 8th seed in the East, but their next game will be a lot tougher as they will be facing the Sixers duo of Embiid and Harden. Can Kyrie Irving replicate the magic he had against the Hornets?