The rap world was shaken by the recent arrest of Duane "Keefe D" Davis, a suspect in the 1996 murder of Tupac Shakur. Davis, a former gang leader, has allegedly confessed to being in the car that shot Tupac, and also claimed that Sean "Diddy" Combs offered him $1 million to kill Tupac and Suge Knight. Diddy has denied any involvement in the murder, calling Davis' claim "pure fiction and completely ridiculous".
Did P Diddy Respond to Rumors that He Had 2Pac Killed Because 50 Cent's Twitter Post Has Him Rattled?
Some people believe that Diddy is feeling the pressure from the investigation, and that he may have sent a cryptic message to his accusers on Instagram. On Monday, Diddy posted a video of himself dancing and smiling, with the caption: "Happy Monday morning people!. There's a lot of hate in the world. Let's choose LOVE today!! Monday morning MOOD!!".
Some fans interpreted this as a subliminal response to 50 Cent, who had trolled Diddy on Instagram the day before. 50 Cent, who has a history of beef with Diddy, posted a photo of Tupac and Suge Knight in the car before the shooting, and wrote: "Damn so pac got lined by brother love. LOL time to Lawyer up, s**t might get sticky". Brother Love is one of Diddy's former aliases.
By choosing love over hate, some people think that Diddy was trying to deflect the accusations, and portray himself as a positive and peaceful person. Others think that he was mocking 50 Cent and Keefe D, implying that they are wasting their time and energy on him. Some even suggested that Diddy was sending a warning to them, hinting that he has powerful lawyers and connections to protect himself.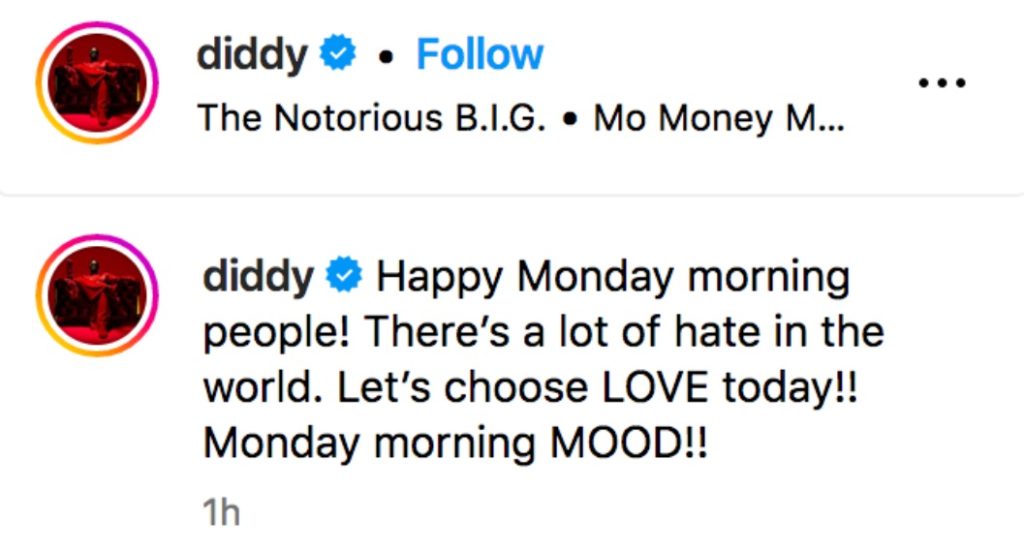 Here is the audio of Keefe D allegedly admitting P Diddy offered him $1 Million to murder Tupac.
Whatever the case may be, it seems that the Tupac murder case is far from over, and that more revelations and drama may emerge as the investigation continues. As one of the most influential and controversial figures in hip-hop history, Tupac's legacy and death have fascinated fans and critics alike for decades. His murder remains one of the biggest unsolved mysteries in music history.