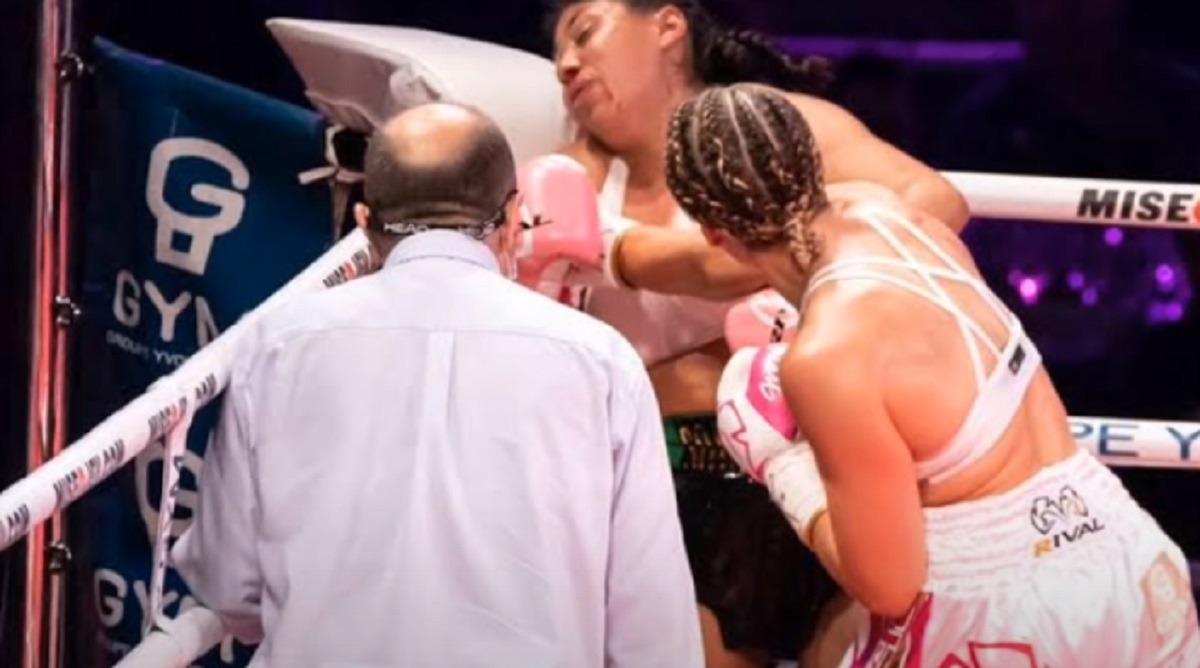 Sad news has hit the boxing world 18 Year Old female boxer Jeanette Zacarias Zapata is dead after being knocked out by Marie-Pier Houle during a GYM Gala International Boxing event in Montreal Canada.
The videos of Jeanette Zacarias Zapata's death in the ring have left many people shaken. It all started in 4th round after Marie-Pier Houle connected with vicious uppercut, and right hand. As the bell rang to end the round Jeanette Zacarias Zapata start to convulsing after falling unconscious. Doctors rushed into the ring to help her, but she would later die.
This is the viral video of the moments before Jeanette Zacarias Zapata's death. You could see she was losing balance after the final hit, which eventually made her collapse and die.
This is where doctors where checking on Jeanette Zacarias Zapata as she was convulsing on the ground.
This was a photo from the weigh-ins before what would be her final match.
Marie-Pier Houle Reacts to Causing Jeanette Zacarias Zapata's Death
On social Marie-Pier Houle sent condolences to Jeanette Zacarias Zapata's family, and expressed how bad she felt about causing her death. In her statement she wrote,
"Never ever is the intention of seriously injuring an opponent in my plans. My sincere thoughts go to my opponent, Jeanette Zacarias Zapata, as well as to her family."
Many people love watching boxing, but often times we forget how dangerous the sport can be. Statistically more dangerous than UFC, which some people might find surprising.
RIP Jeanette Zacarias Zapata, and prayers up for her family.
Author: JordanThrilla Staff