A recent viral rumor claimed that Seattle Seahawks cornerback Devon Witherspoon had made a sarcastic remark about Cleveland Browns quarterback Deshaun Watson, who has been ruled out of the next game against the Seahawks due to a right shoulder injury.
The viral tweet which started the rumor claimed that when asked about Watson being not playing in his next game, Witherspoon said: "I guess the doctors over there in Cleveland told him he can't play. And he's finally taking no for an answer".
The tweet implied that Witherspoon was mocking Watson's past legal troubles, which involved multiple allegations of intimate assault and harassment from women who had given him massages. Watson has denied any wrongdoing, and has not been charged with any crime, after investigation by the NFL and the Houston Police Department. However, he did settle with some of the woman out of court.
The tweet sparked a lot of reactions from people on social media, who either praised Witherspoon for his witty jab at Watson or criticized him for being insensitive and disrespectful. Some Seahawks fans even suggested that Witherspoon should win the rookie of the year award for his bold comment.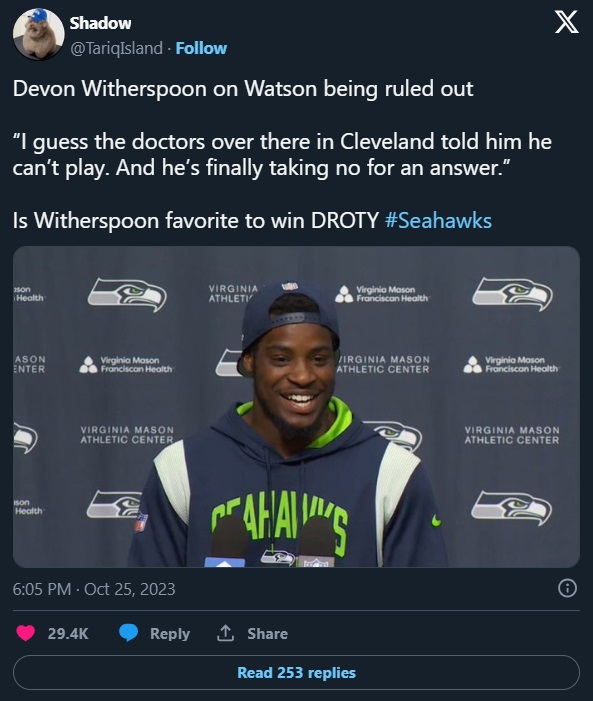 Did Devon Witherspoon Say Deshaun Watson is Finally Taking No For an Answer During a Recent Interview?
There is one problem with the tweet: it is not true. The quote attributed to Witherspoon saying Deshaun Watson is finally taking no for an answer was never said by him in any interview or press conference. The tweet was a hoax, created by someone who wanted to stir up some controversy, or make everyone get a good laugh, both of which it has been successful at doing.
It is highly unlikely that any active player in the NFL would risk their career by making such a joke about a sensitive and serious situation like Watson's. Especially a rookie like Witherspoon, who is trying to establish himself in the league and earn the respect of his teammates and coaches.
Witherspoon has been playing well for the Seahawks, who have a strong 4-2 record. He has no reason to create unnecessary drama or distract himself from his performance on the field.
The tweet that claimed Witherspoon said that Watson is finally taking no for an answer was a fake, and should not be taken seriously by anyone. However, there's no doubt that if he did actually say that it would have increased ratings for their upcoming game, because then it would have been personal for the Browns.