The 7'9″ NBA prospect Abiodun Adegoke from Nigeria is being hailed as the next Wilt Chamberlain. At almost 8 feet tall this basketball phenom doesn't have the normal setbacks people his height usually have. He moves light on his feet, has good balance, and doesn't even need to jump to dunk. Think of a taller more athletic Boban Marjanovic.
A short clip that is going viral shows Abiodun Adegoke doing a quick spin move dunk in the post. The footage shows just how massive his size is. Most people see his humpback and think he might have issues with his movement, until you see him play on the court and realize it just gives him even more advantages.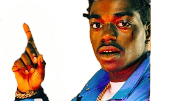 At 7'9″ Abiodun Adegoke even towers over Tacko Fall who stands at 7'5″. He is truly going to be a one of one when he eventually makes the league. His only setback will probably be endurance, but even playing him in short spurts will make an instant impact on any NBA team. It's clear Abiodun Adegoke is dedicated to the sport as he has often been seen in the gym fine tuning his fundamentals. He isn't just doing it due to his height, it's easy to see he's passionate about the game of basketball.
Author: JordanThrilla