The World Cup is finally over, and it was a nail-biter all the way to the very end. In the end, it was Argentina who emerged victorious, thanks in part to the brilliance of Lionel Messi. Messi was absolutely crucial to Argentina's success – he scored goals and set up others, and his contribution was key to their semifinal victory over Spain. Messi is now one of the most celebrated athletes in the world, and his talents will surely be put to use in future tournaments. Naturally with that type of aura people are always trying to leech off his fame and success, and social media is calling out Salt Bae for seemingly doing just that.
Lionel Messi Curving Salt Bae During World Cup Celebrations Sparks Epic Salt Bae Roast Session about Clout Chasing
It's no secret that Salt Bae – the Turkish chef who became famous for his sultry cooking skills on reality TV, has a lot of fans, but Lionel Messi is definitely not one of them based on what went down. After Messi led Argentina to victory in the World Cup, Salt Bae decided it was time seize the opportunity to seemingly steal some of the attention. To the delight of many when Salt Bae reached out to him, Messi curved him down flat. This led to a viral Salt Bae roast session on social media as people accused him clout chasing during Argentina's World Cup celebrations.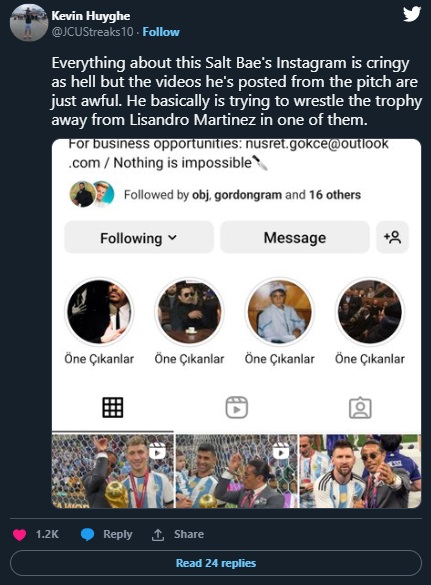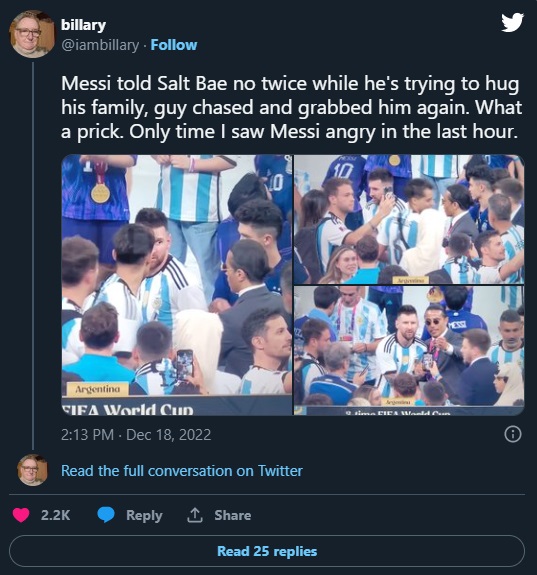 _
A collection of Salt Bae trying for clout with these players. So painful to watch. Like forcing himself between 2 players and trying to take the trophy away while players try to maintain professionalism, but their faces can be clearly read they are annoyed pic.twitter.com/BbChdBEK3M

— Kevin Huyghe (@JCUStreaks10) December 19, 2022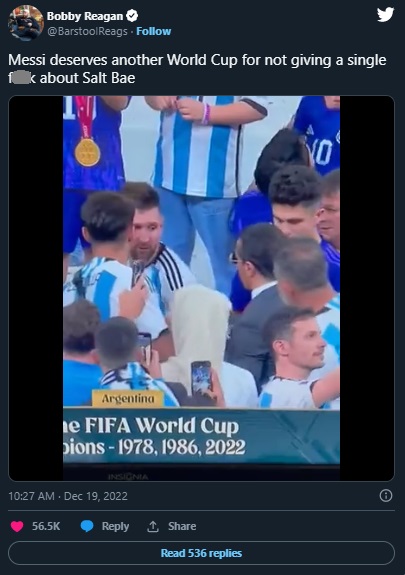 Interestingly enough 4 years ago Lionel Messi ate at Salt Bae's restaurant. Is it possible he wasn't happy with the food quality, and never forgot?
What is Salt Bae's Net Worth in 2022?
Salt Bae is one of the most popular social media stars in the world, with a net worth of over $75 million. He's known for his quirky, often humorous videos showcasing his culinary skills. Salt Bae started his culinary career as a butcher and worked in restaurants for free, before he became a sensation on social media. His videos have been watched millions of times, and he has even starred in a number of television shows and movies.
It's safe to say Salt Bae doesn't know how to take no for answer when he's in clout chasing mode. Nevertheless, that persistence to be the center of attention is part of the reason he's rich now.