Back in July 2021 a rumor went viral alleging that Liz Cambage beat up a player during a closed door scrimmage between Australian Opals and Team Nigeria. At the time there were no videos or details about why the altercation happened, or who it involved. That all changed today thanks to the an alleged video released by a Sunday Telegraph investigation. As crazy as it may sound it seems this was a case of double racism.
Liz Cambage Leaked Fight Video Allegedly Shows Her Making Racist Comments Towards Team Nigeria
According to alleged footage obtained by Sunday Telegraph, during the closed door scrimmage back in July 2021 Liz Cambage elbowed a Nigerian player in the head then proceeded to slap another. As she was doing this it's alleged Liz Cambage called Team Nigeria 'monkeys', and told them to 'go back to their third world country'. The chaos caused by Liz Cambage fighting Nigerian players forced officials to end the scrimmage even before the opening quarter could finish. Ironically just a few days ago Liz Cambage elbowed NaLyssa Smith's head.
The Sunday Telegraph allegedly spoke directly with players on Team Nigeria who allegedly confirmed Liz Cambage's racist 'Monkey' and 'third world' comments. It's alleged that Liz Cambage apologized to Team Nigeria the next day, but it wasn't accepted because she allegedly didn't show true remorse. On the surface it may sound like Liz Cambage is prejudice, but there's plot twist here.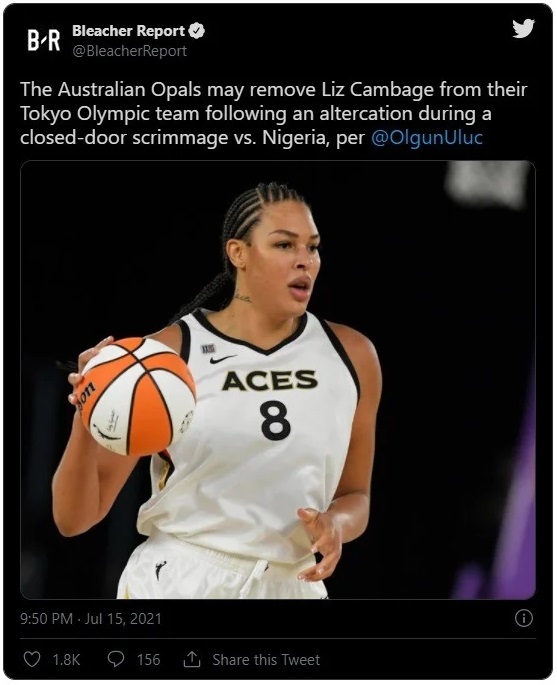 Liz Cambage is Nigerian
The strange thing about the alleged Liz Cambage racist outburst towards Team Nigeria is that her father is Nigerian. In fact according to an alleged statement made by a Nigerian player during the investigation they thought of Liz Cambage as sister culturally due to her father's African heritage. In addition it was reported that prior to the altercation Liz Cambage was telling Nigerian players that she wished was playing on their team, because she believed the Australian Opals were racist.
Details About Liz Cambage's Racist Allegations Towards Australian Opals
Although it's believe Liz Cambage's fight and racist comments towards Nigerian players was the final straw that made Australian Opals ban her from the team, the tension between her and the Australian national team goes way back. Early in 2021 Liz Cambage accused the Australian Olympic Committee of being racist. She claimed they "whitewashed" a promotional photoshoot for Australia's Tokyo Olympic teams by not including any players of color. Back then Liz Cambage threatened to boycott the Tokyo Olympics.
Considering the tough situation she was going through with the alleged internal racism from the Australian Opals it's very surprising that Liz Cambage allegedly made racist comments towards Nigerian players. Perhaps her frustration from the situation she was going through with her team led to the alleged outburst. If Liz Cambage is Nigerian then why would she make racist comments towards Nigerians? These are mind boggling allegations.