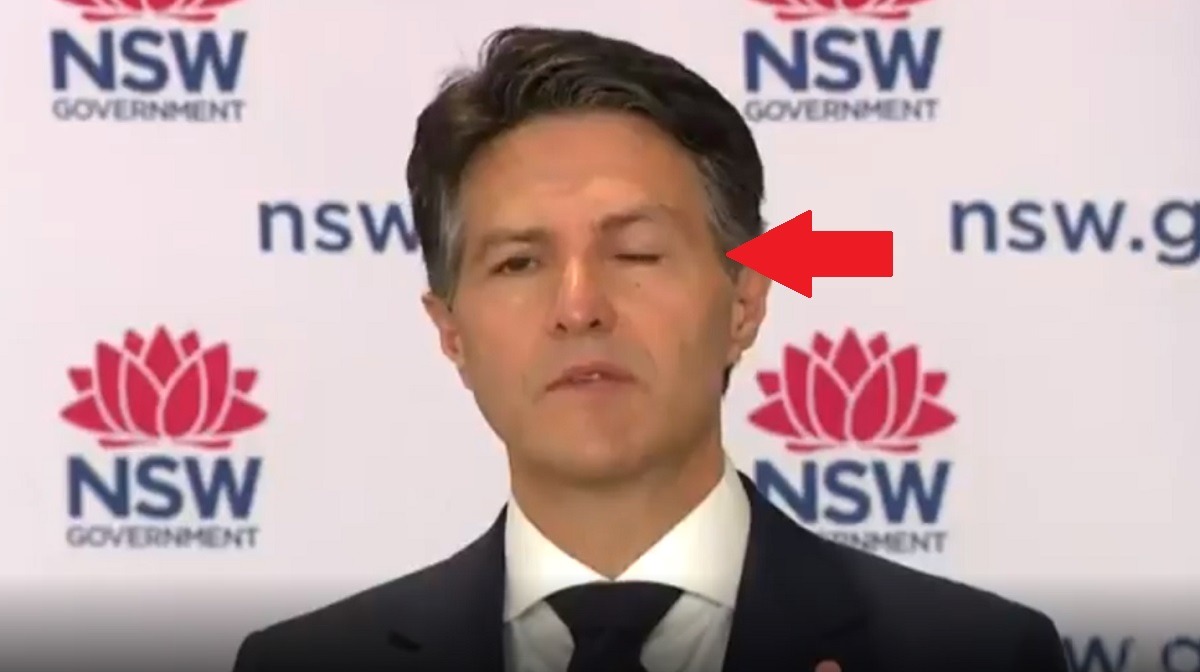 Everyone around the world has heard about the hell Australia's government is putting their citizens through. Their extreme enforcement of lockdowns and vaccine mandates that haven't been working to slow the spread of COVID in the country, has taken away most of the freedoms Australians enjoyed. Ironically it seems Australia's Customer Service Minister might be suffering a rather serious side effect after taking the COVID Vaccine.
Did Australian Minister Victor Dominello Get Bell's Palsy from COVID-19 Vaccine?
During a recent press conference Victor Dominello's left eye became droopy. Many people feared he might have had a heart attack, but after the speech he would detail how his health deteriorated after taking the COVID-19 vaccine. His unexplained droopy eye happened about one month after he took the AstraZeneca COVID vaccine.
Take a look at this video, and pay attention to his left eye.
A Time Line Between Victor Dominello's Bell's Palsy Diagnosis and His COVID-19 Vaccine Jab
According to Victor Dominello back in August when the video above took place he was suffering from unexplained pains in his skull, and behind his right ear. He also had a "pins and needles" feeling on his right tongue. He didn't go the hospital until he noticed his droopy eye in the video above. Doctors diagnosed Victor Dominello with an unexplained case Bell's Palsy, which is a condition that causes temporary dysfunction of the facial nerves.
Here was his Facebook post about the issue.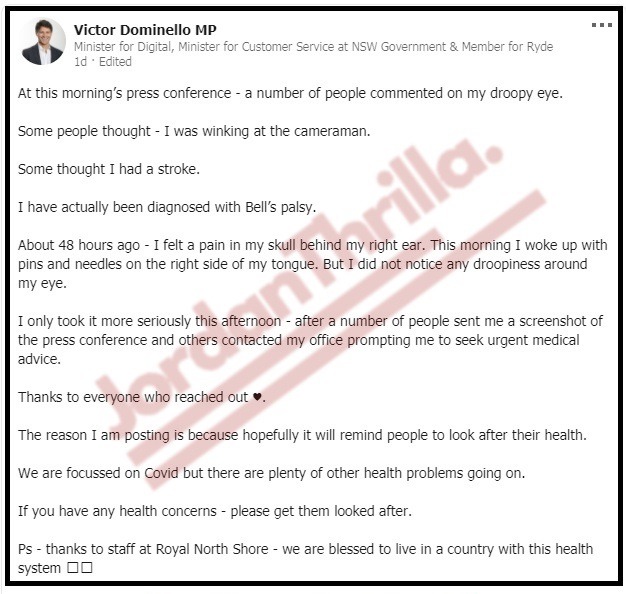 When Did Victor Dominello Get Vaccinated?
Okay so now that you have the backstory, let's look at how long it took for Victor Dominello to develop Bell's Palsy after he got the COVID vaccine. On May 26, he posted the photo below confirming he got the AstraZeneca COVID Vaccine. He had no droopy eyes, no history of Bell's Palsy, and was completely healthy.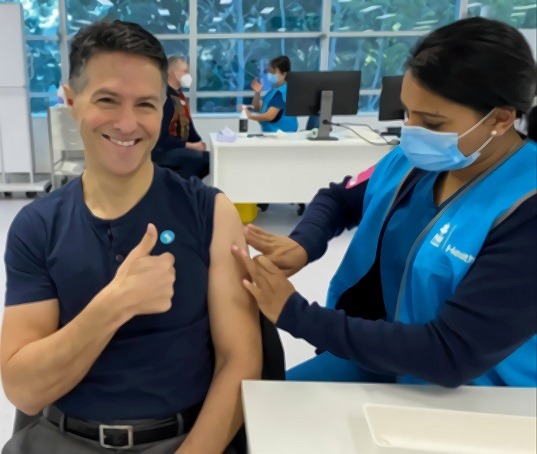 On August 18, Victor Dominello announced that he had Bell's Palsy, but did not explain how he developed the condition. If you do the math it happened only 3 months after he got the COVID Vaccine. In many cases where people possibly suffer serious side effects from the COVID Vaccine it seems to start happening within the first three months, such as in the case of NBA player Brandon Goodwin who claims COVID Vaccine destroyed his NBA career.
Bell's Palsy is listed as a potential side effect of COVID-19 Vaccines, so it's entirely possible it caused Victor Dominello's droopy eye. He would never admit this publicly though.
According to VAERS, in America there have over 50,000 reports of people potentially suffering serious side effects from COVID Vaccines.
Author: JordanThrilla Staff