UFO sightings continue to be one of the hottest topics for human beings as the thought of life on other planets tantalizes our minds. In recent years the evidence that UFOs exists seems to becoming more concrete with the US government releasing videos of their encounters with possible UFOs. With NASA recently landing on Mars, a planet that is believed to have once been similar to Earth, many people are studying the pictures their Mars Rover sends back to see if there is anything unusual about them. Now some recent photos have sparked a conspiracy theory that alien is following the Mars Rover around.
Was a Pink Alien Watching Mars Rover in Recent NASA Images of Mars? Details Behind the Mars Rover UFO Conspiracy Theory
Recently Scott C. Waring a well renowned UFO expert pointed on something peculiar about some images of Mars NASA released publicly. In this image it appears a pink alien is watching the Mars Rover while wearing some kind black device on its back. The Pink alien appears to be around 1 foot tall, and very slender.
In the photos it's tough to see due to graininess, but Scott C. Waring claims the pink alien is laying down while observing the Mars Rover from long distance. The black device on its back could be equipment for the surveillance mission it was sent on by its alien comrades. Scott C. Waring claims this is 100% proof that there is intelligent life forms on Mars.
Take a look at this photo. The read arrow is pointing the pink alien that appears looking directly at the Mars Rover taking the photo while hiding behind a rock.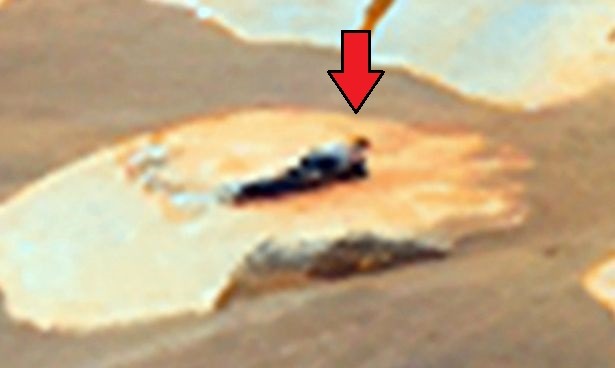 If that's not a pink alien watching the Mars Rover, than what could another explanation be? Possibly just a color glitch from the photo equipment? If you look closely it's possible that there are footsteps behind the figure, which further indicates it is likely a pink alien.