Keke Palmer, the actress and singer, recently attended an Usher concert in Las Vegas, where she wore a sheer black Givenchy dress over a thong bodysuit. The outfit showed off her butt, and caught the attention of Usher himself, who serenaded her on stage. However, not everyone was impressed by her daring look. Her boyfriend, Darius Daulton Jackson, publicly criticized her for wearing such a revealing outfit, especially as a mother of their 5-month-old son, Leodis.
How Keke Palmer's Boyfriend Darius Daulton Reacted to Backlash From Shaming Her See-Through Booty Showing Outfit Publicly
Jackson, a fitness instructor, took to Twitter to express his disapproval of Palmer's outfit. He shared a video of her being sung to by Usher and wrote: "It's the outfit tho.. you a mom". His tweet sparked a backlash from Palmer's fans and other social media users, who defended her right to dress however she pleases and accused him of being jealous, insecure and controlling.
Some also pointed out the hypocrisy of him shaming her for showing her body while he posts shirtless photos of himself on Instagram. Others praised Palmer for being confident and sexy in her outfit and for enjoying herself at the concert.
He responded to the backlash with another now deleted tweet, saying: "We live in a generation where a man of the family doesn't want the wife & mother to his kids to showcase booty cheeks to please others & he gets told how much of a hater he is. This is my family & my representation. I have standards & morals to what I believe. I rest my case".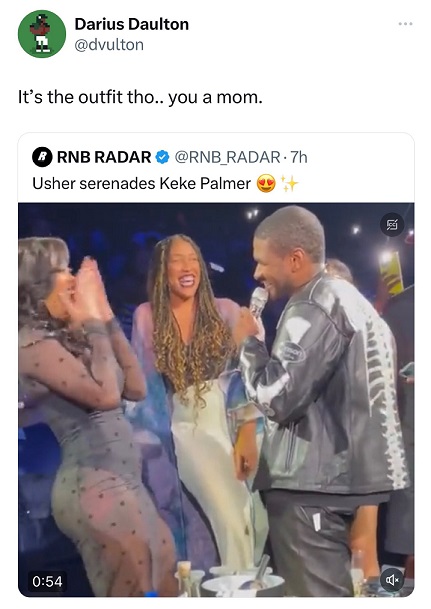 Did Keke Palmer Respond to Her Boyfriend's Comments Shaming Her Outfit?
Palmer did not directly respond to Jackson's tweets, but she did post more photos of her outfit on Instagram, showing it off from different angles. She also wrote in the caption: "I wish I had taken more pictures". She also expressed her admiration for Usher and his performance, saying: "If you haven't seen @usher YOU MUST GO!! HE WAS SO FABULOUS!!".
Many people feel that this is her way of saying that she doesn't agree with the sentiments of her significant other. Could there be trouble brewing in that household?
This is not the first time that Palmer has faced criticism for her fashion choices. In 2019, she clapped back at an Instagram user who told her to "dress modestly" after she posted a photo of herself wearing a crop top and shorts .
She replied: "I'm not dressing for you sir".
Palmer has always been vocal about embracing her body. In 2018, she told Cosmopolitan that she likes to wear clothes that make her feel good and that she does not care about other people's opinions.
She said: "I don't really subscribe to any rules when it comes to fashion or beauty. I just do what makes me happy".
Palmer and Jackson have been dating since 2021 and have mostly kept their relationship private. They welcomed their son Leodis in February 2023 and Palmer shared some sweet photos of their newborn on Instagram.
She also praised Jackson as a father in a Father's Day post in June 2023, writing: "Happy Father's Day to the best dad ever. Leodis and I are so very happy to have such a fun, kind, responsible, dependable and supportive man like you in our lives" .
What do you think of Keke Palmer's booty showing outfit, and her boyfriend's reaction? Do you agree or disagree with him?