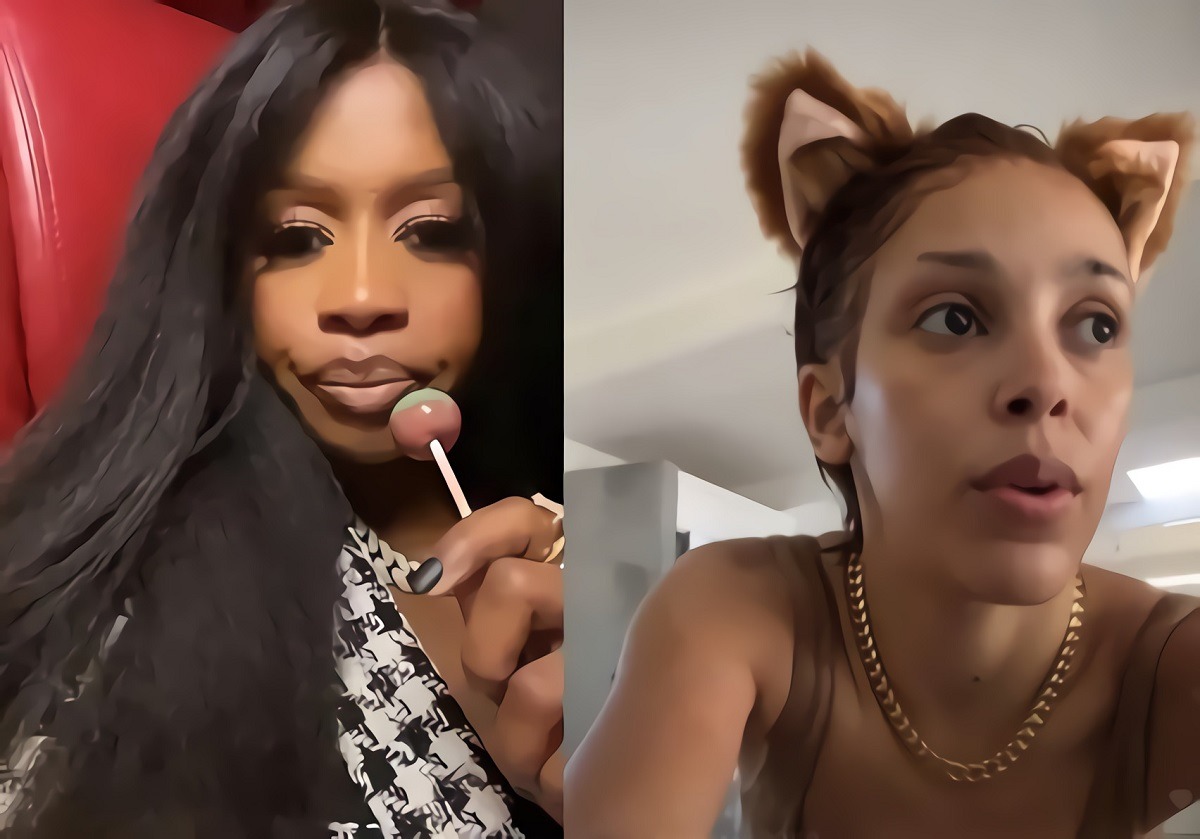 Doja Cat's rapping abilities have always been put under a microscopic, because of the unorthodox way she entered into the rap game. Now she continues to go through the same issues Drake goes through after he was exposed by Meek Mill way back in the day. Recently her abilities became the topic of discussion after Remy Ma made some controversial comments about her career.
Details on When Remy Ma Said Doja Cat Is Not a Rapper
During a recent episode of Drink Champs Remy Ma was asked her thoughts about Doja Cat. She didn't diss her completely, because she admitted she likes her music, but she did diss her credibility in terms of being labeled as a rap artist. During the interview Remy Ma explained Doja Cat isn't rapper by saying,
"They be putting her in the rapper category. I don't think she's a rapper, but she makes dope records, and I think she's dope."
Social Media Reacts to Remy Ma saying Doja Cat Isn't a Rapper
It's easy to see understand why Remy Ma feels that way, because many people would categorize Doja Cat as a pop artist who raps, similar to how Drake is categorized by some hip-hop heads. It's honestly tough to remember any memorable lyrics Doja Cat has ever rapped, besides maybe a hook on her songs. However, saying she isn't a rapper might be going a bit too far, because her first track that ever went viral was a rap song. Take a look at some social media reactions to Remy Ma saying Doja Cat isn't a rapper.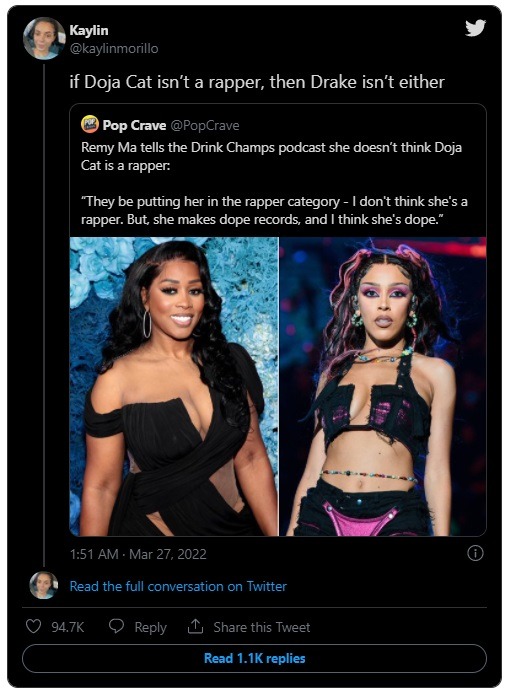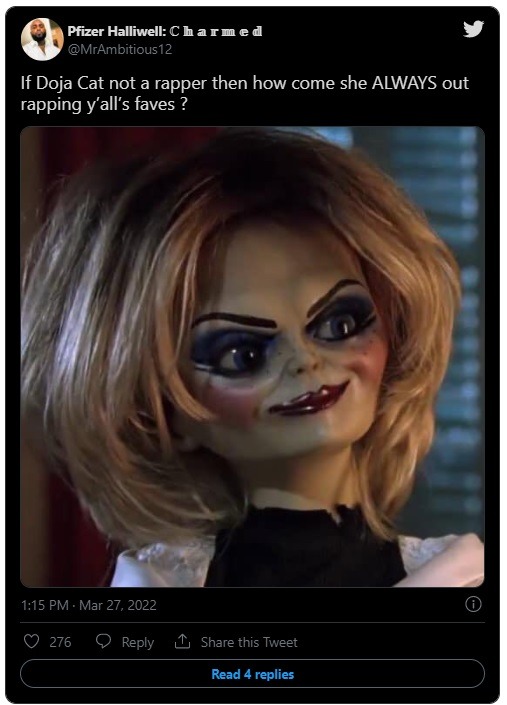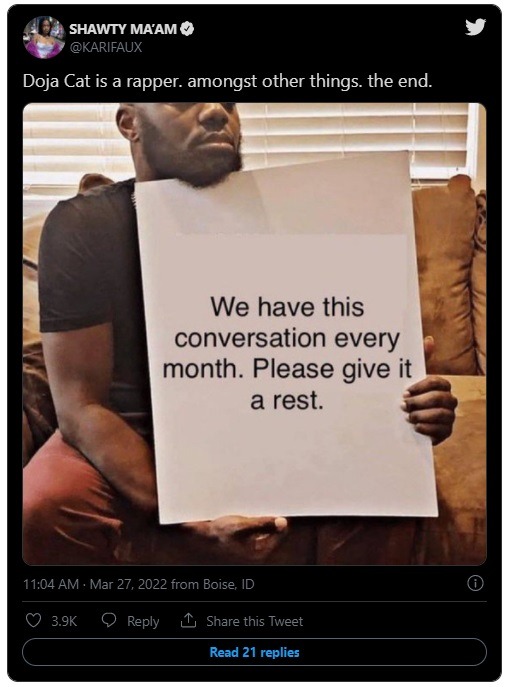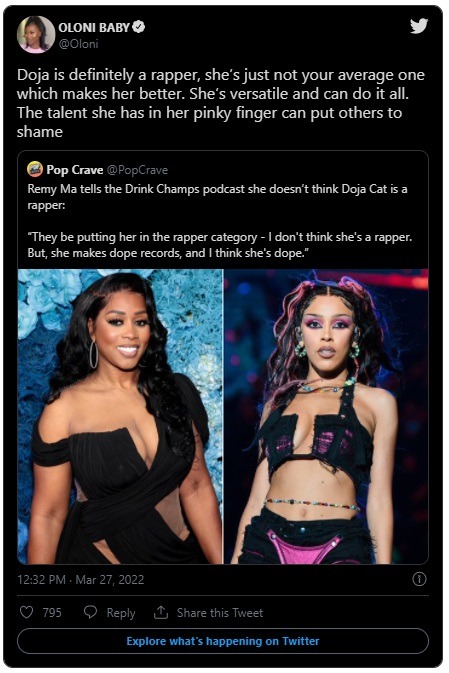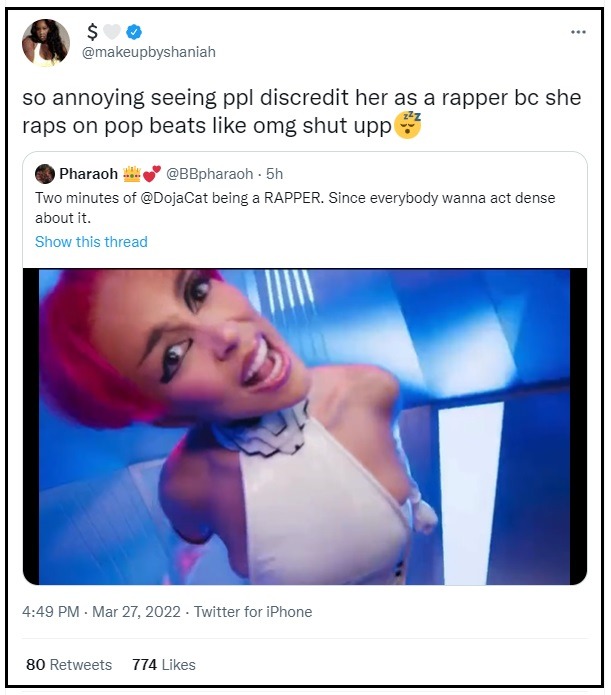 Doja Cat's Responds to People Saying She Isn't a Rapper
In the past Doja Cat has spoke about people who claim she isn't rapper. Essentially she believes in her ability to rap, so the criticism doesn't bother her. She also talks about how every song she drops a verse on ends up being a hit, but that could more related to her star power.
Does she have a point, or are the people who say Doja Cat isn't rapper speaking the truth? All in all it doesn't seem like Remy Ma was hating on Doja Cat, rather she was just stating her honest opinion. There's nothing wrong with being honest, because after all she did say Doja Cat's music is dope, so that's the most important thing.