After receiving controversial loss in their first fight, Tyron Woodley was hoping to vindicate himself with a spectacular finish in his rematch. However, the opposite would happen as Jake Paul got the victory once again, but in an even more definitive fashion.
A Bleeding Jake Paul Knocks Out Tyron Woodley After Coming out to YMCA Music. Tyron Woodley Memes on the Horizon?
In the 6th round Jake Paul knocked out Tyron Woodley with a vicious haymaker that dropped him to the canvas like a log. Even before the referee started counting it was easy to see the match was over. It was impressive, because Jake Paul was bleeding from his head for the later half of the fight. The Tyron Woodley knockout memes are about to flood social media for sure.
Another angle from Jake Paul's TikTok.
That's embarrassing considering Tyron Woodley's decorated fighting background. Jake Paul turned Tyron Woodley into a knockout meme. Plus he still has his named tatted on him.
Tyron Woodley meme is born, look at his feet. The money he's getting paid is probably worth the embarrassment though.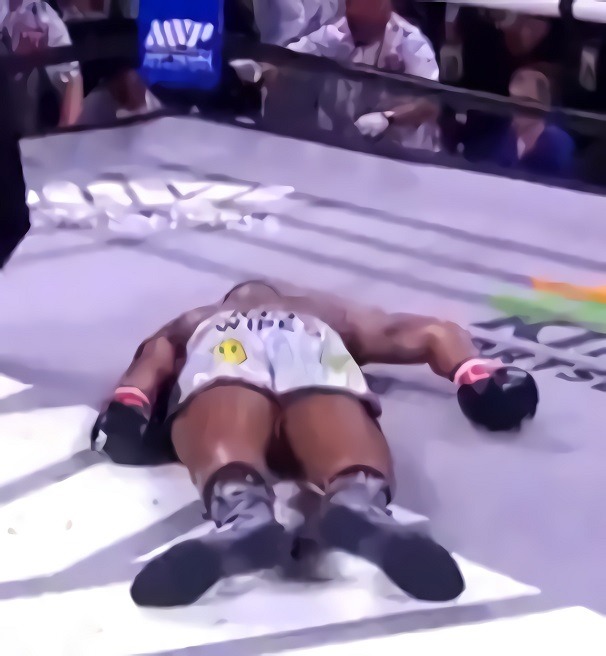 Before the match Tyron Woodley guaranteed he would knock out Jake Paul, but the exact opposite happened go figure.
How Jake Paul Ruined Tyron Woodley's Crypto Investment Plan
Before the fight Jake Paul added the $500,000 knockout bonus to prove to people there was not a "no knockout" rule in the first fight. He promised he would give Tyron Woodley $500K extra if he knocked him out.
During a press conference before their rematch it was revealed Tyron Woodley was investing Jake Paul's knockout bonus in cryptocurrency if he managed to send him to canvas. Unfortunately his dream was crushed by Jake Paul's haymaker. Now Tyron Woodley's $500K cryptocurrency investment plan remains a dream.
It's really time for that Jake Paul vs Canelo match.
Authors: JordanThrilla Staff