Jackson Mahomes, the younger brother of Kansas City Chiefs quarterback Patrick Mahomes, is facing serious legal troubles after being accused of sexually assaulting a woman and a waiter at a restaurant in February 2023.
According to a report by the New York Post , Jackson allegedly grabbed Aspen Vaughn, the owner of Aspens Restaurant and Lounge in Overland Park, Kansas, by the throat and forcibly kissed her three times without her consent. He then tried to bribe her with his social media influence to help her business.
Vaughn, who provided surveillance video of the incident to the police and the media, said she suffered injuries on her neck and felt violated by Jackson's actions. She also said that Jackson shoved a 19-year-old waiter twice when he tried to intervene.
Jackson was arrested in May and charged with three counts of aggravated sexual battery and one count of misdemeanor battery, according to ESPN . He pleaded not guilty and was released on a $50,000 bond. His attorney said that Jackson "has done nothing wrong" and that he will fight the charges in court.
Aspens Restaurant and Lounge Closes Down Due to Backlash From Jackson Mahomes Fans Allegedly
The case has sparked public outrage and backlash against Jackson, who is known for his TikTok videos and his presence at his brother's games. Many people have expressed their support for Vaughn and condemned Jackson's behavior on social media.
However, the controversy has also taken a toll on Vaughn's business, which she had to close down in July due to financial losses and safety concerns. It's alleged that she received threats and harassment from Jackson's fans, and that she feared for her life. "We were so close to making it, then this whole thing happened" one employee said according to DailyStar.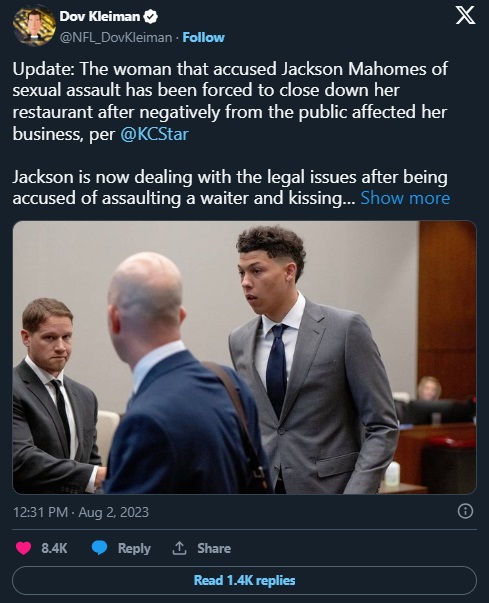 It is unclear when Jackson will face trial or what the outcome will be. His brother Patrick has not addressed the issue publicly either, but has reportedly been supportive of him behind the scenes.
The case has raised questions about the role of fame and power in sexual assault cases and the impact of social media on public opinion and victim's rights. It has also highlighted the need for more awareness and prevention of sexual violence in society.