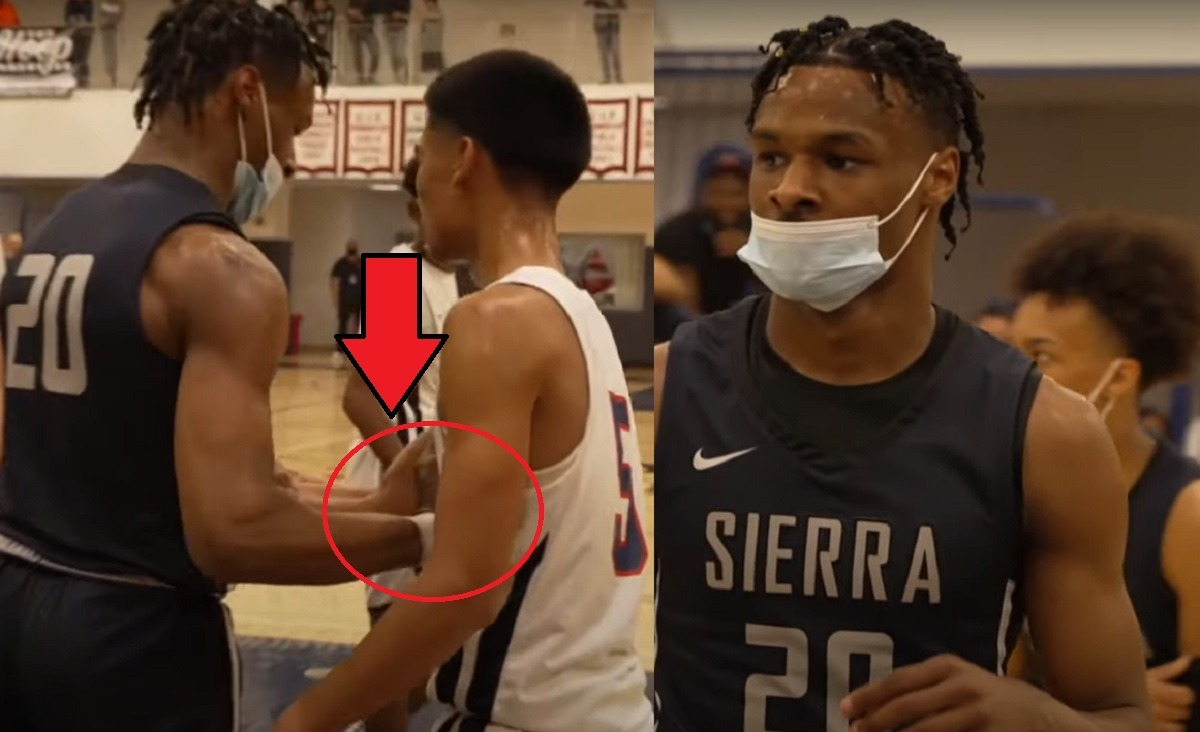 Bronny James' junior year of High School basketball has officially started, and he's off to a rather bumpy start. In Bronny James' first game as a junior Sierra Canyon faced off against the Montgomery Aztecs, and things got a bit heated. Although Sierra Canyon won the game by 53 points 72-19, Bronny James struggled against the much smaller opponents, and his frustration boiled over at one moment.
Bronny James Almost Fights Number 5 Nico Reyes After Getting His Shot Blocked in First Game as Junior
On the game Bronny James struggled to score as he was seen missing layups, getting his shot swatted, and bricking wide open jumpers despite being guarded by smaller opponents most of the game. He also had some good defensive plays, and played within the game.
The most tense moment came when the 135lbs 5'11" Nico Reyes fouled Bronny James who is 6'3″ 190 pounds. He didn't take kindly to that, which almost led to Bronny James fighting Number 5 Nico Reyes. This came after Bronny was already frustrated about blowing a wide open layup. Luckily after Bronny James pushed Nico Reyes, cooler heads prevailed as their teammates quickly came to separate them.
Skip to the 9:40 mark to see Bronny James almost fight Number 5 Nico Reyes, 12:33 mark to see Number 54 Chris Ortiz blocking Bronny James, 9:23 mark for the blown layup, and 10 minute mark for the Bronny James air-ball. This definitely wasn't his best performance, which some people feel is alarming considering the level competition.
Many people are surprised to see that Bronny James is still coming off the bench as a 17 year old Junior, but as you can tell Sierra Canyon is still stacked with many players who are simply better at the moment. Nevertheless, this is the season Bronny James needs to show that he can dominate on the court consistently, and score at a high clip on a regular basis.
At the moment it still seems like he struggles to create his own shot, but that could be because he's enjoys playing within the game. However, this can't be another season where he averages 5 or 6 ppg like he did as a freshman and sophomore.
Do you see Bronny James making it the NBA? At the moment it's tough to say that he will, but hopefully he achieves that dream. Sierra Canyon is now 4-0 on the season.
How would you rate Bronny James' first game as a junior?
Authors: JordanThrilla Staff