Former WNBA player Kysre Gondrezick has broken her silence after she was allegedly assaulted by her boyfriend, Houston Rockets guard Kevin Porter Jr., in a New York hotel room on Monday. The things she is saying have left the sports world stunned, and has fueled many conspiracy theories about what might be happening behind the scenes.
Is Kysre Gondrezick Being Paid to Defend Kevin Porter Jr to Save his NBA Career, or Is She Suffering From Battered Woman Syndrome?
Porter, 23, was arrested and charged with assault and strangulation for allegedly hitting Gondrezick multiple times and placing his hands around her neck, according to police sources. Prosecutors said Gondrezick was left with a broken bone in her neck, a cut on her face, and bruises on her body.
However, in a statement released by her attorney on Wednesday, Gondrezick said that Porter and her representatives "strongly refute" the claims of abuse, and that the narratives reported in the media are "misleading and inaccurate".
She also asked for privacy and respect from the public and the press, and urged them to "avoid speculation" and "refrain from any judgment" on the matter. She said that the incident "in no way does that represent what their relationship has been" and that she and Porter "love each other very much".
The statement did not provide any details or explanations about what actually happened in the hotel room or why Gondrezick was injured.
Some people have speculated on social media that Gondrezick is being coerced or pressured to defend Porter in order to protect his basketball career, which has been marred by previous legal troubles.
Others have suggested that she might be suffering from a psychological condition known as battered woman syndrome, which causes some victims of domestic violence to stay with or support their abusers even when they are in danger.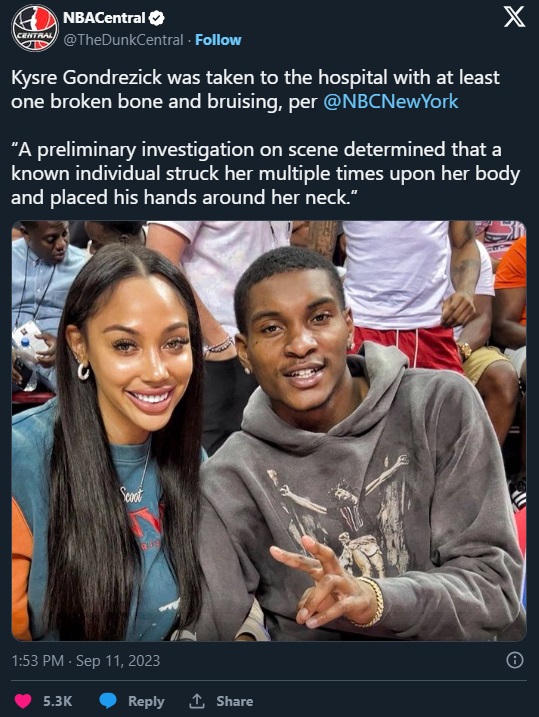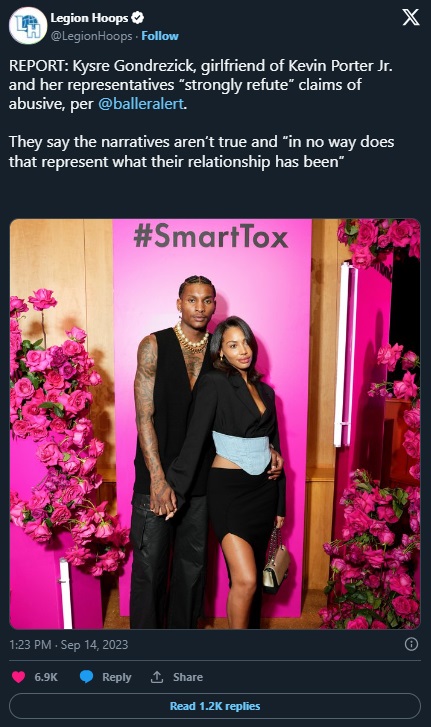 Porter, who was drafted by the Cleveland Cavaliers in 2019 and traded to the Rockets in 2021, had his best season last year with 19.2 points, 5.3 rebounds and 5.7 assists per game. He pleaded not guilty to the charges on Tuesday, and was released on $75,000 cash bail. He is due back in court on Oct. 16.
Gondrezick, 26, played college basketball for Michigan and West Virginia, before being drafted by the Indiana Fever in 2021. She played one season for the Fever before being waived in 2022. She has not played the last two WNBA seasons, and is currently a free agent.