LaMelo Ball, the star guard of the Charlotte Hornets, has been in the spotlight for his impressive performance on the court. However, he has also been drawing attention for his controversial neck tattoo, which the NBA has ordered him to cover up.
According to ESPN's Adrian Wojnarowski, the NBA has told Ball that he must cover up his tattoo because it violates the league's policy prohibiting commercial logos on players' bodies. The policy states that "a player may not, during any NBA game, display any commercial, promotional, or charitable name, mark, logo or other identification, including but not limited to on his body, in his hair, or otherwise", but there is a plot twist here.
The tattoo, which features the letters "LF" in a diploma font, is the logo of Ball's clothing line, LaFrance. The line was launched in 2020, before Ball was drafted as the third overall pick by the Hornets. However, LaFrance is also Ball's middle name, which he shares with his father, LaVar Ball.
Ball has allegedly complied with the NBA's request, but he reportedly feels that the decision is unfair and inconsistent, saying it was infrequently enforced. He may be right when you look at past evidence.
For example, Carmelo Anthony has a Warner Bros. logo on his shoulder, Lonzo Ball once had a BBB tattoo on his arm, and Kyrie Irving has a Friends logo on his arm. None of these players have been asked to cover up their tattoos by the NBA.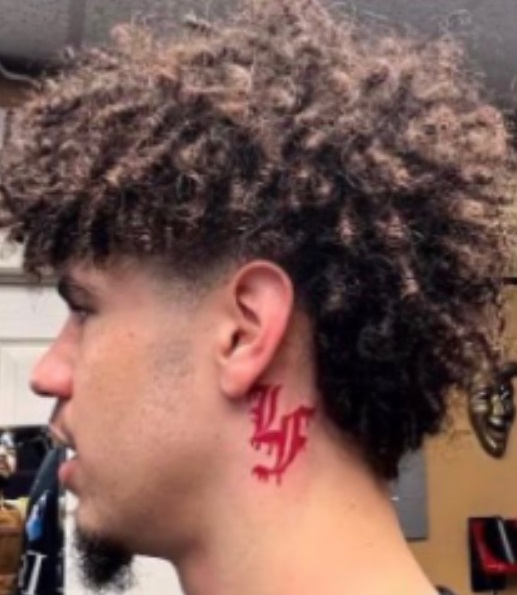 Some fans and analysts have sided with Ball, claiming that the NBA is violating his rights and discriminating against him. They accuse the NBA of being hypocritical and biased, as the league allows its official partners and sponsors to display their logos on the players' jerseys, shoes, and accessories. They also suggest that the NBA has ulterior motives for targeting Ball, such as disliking his tattoo's appearance or wanting to control his image.
What do you think is there more to the NBA forcing LaMelo to cover his LaFrance neck tattoo than meets the eye? It will be interesting to see if Lavar Ball speaks out for his son.