This NBA offseason has been ruled with rumors about the Nets future regarding Kyrie Irving and Kevin Durant. There's only few days left for Kyrie to opt in or out of his current contract, which could keep him on Nets books for one more season. If he opted out he could ink a new deal with Brooklyn, or join another team like the Lakers. As most analysts report Kyrie's decision will also play a major part in whether or not KD requests a trade. A new rumor suggests what his likely or unlikely destination could be.
Will Nets Trade Kevin Durant to Phoenix Suns? Details Behind Viral KD to Suns Rumor
According to DK Sportsbook the odds of DeAndre Ayton landing in Brooklyn has just significantly increased. At the moment Nets are at +275, while Suns remain at +130. Essentially this means there is reason to believe that there is a significant chance Nets make a move to get Ayton in theory. It's actually one of the trades that would make the most sense when looking at the numbers.
As you probably know Ayton is a restricted free agent, which means Suns can match any offer he receives, but the relationship turmoil he has with franchise makes that unlikely to happen. People believe a sign and trade deal involving DeAndre Ayton to Nets, would mean trading Kevin Durant to Phoenix Suns. Ayton would be able to finally be the true centerpiece of a team if that were to happen, and KD would be on another title contender. Take a look a look at the tweet that sent the NBA world into a frenzy.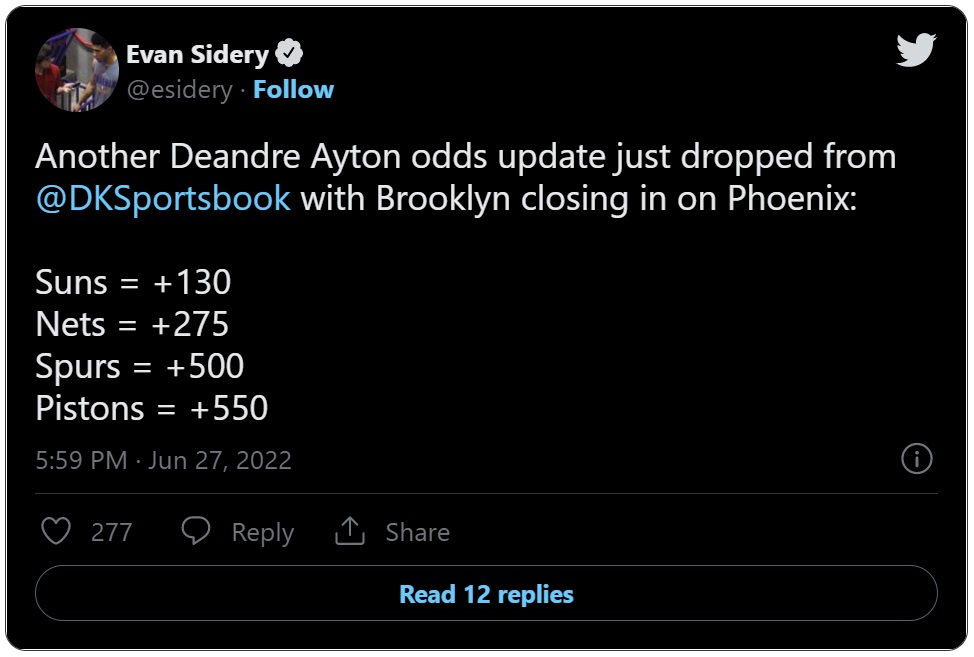 Who Else Could Nets Receive By Trading Kevin Durant to Suns?
Kevin Durant has 4 years left on his contract, so any team that gets him has the luxury of knowing he will be there long term even if he doesn't want to be. Most people would expect a Phoenix Suns trade package for Durant to also include Mikal Bridges and Cameron Johnson, which would basically make Nets the Suns of the East without Devin Booker and CP3 of course.
If this trade went down for Phoenix that would be mean they would have a new big three of Kevin Durant, Devin Booker, and Chris Paul which would be the favorites to win an NBA championship if Kyrie Irving doesn't sign with the Lakers.