A few days ago the NBA world was shocked to learn about the release of Spurs first round draft pick Josh Primo. Today the woman at the center of the Sexual assault allegations was identified as Hillary Cauthen who is Spurs team psychologist. During an emotional press conference she detailed how Josh Primo allegedly exposed his private parts to her during their sessions together. However, a major plot twist was revealed by allegations from Primo's lawyer William J. Briggs.
Details on Josh Primo Sexual Assault Accuser Hillary Cauthen's Press Conference
According to Hillary Cauthen Josh Primo exposed his private parts to her at least nine times with the first incident happening in December of 2021. She claims that when she complained to the Spurs they ignored her, and eventually decided not to renew her contract. She is suing the Spurs organization and filing a criminal complaint against Josh Primo. In her viral press conference she accused the Spurs of silencing her when she went to them for help. Take a listen
Is Spurs Psychologist Hillary Cautheen a Racist Who is Falsely Accusing Josh Primo of Sexual Assault for Financial Gain?
The major plot twist here as aforementioned is the claim from Josh Primo's Lawyer William J. Briggs claiming that Hillary Cauthen is falsely accusing him of sexual assault based on 'racially charged stereotypes'.
According to his statement Josh Primo did not intentionally expose his private part to her, rather when he was sitting down you could see it through his shorts. He feels that all Cauthen had to do was tell him that his groin area was visible, but instead she decided to accuse him of indecent exposure. Essentially it seems he is saying that Hillary Cauthen is a racist white woman who is targeting a black man for financial gain. Could these accusations really just be based on a Josh Primo wardrobe malfunction? Take a look at the full statement.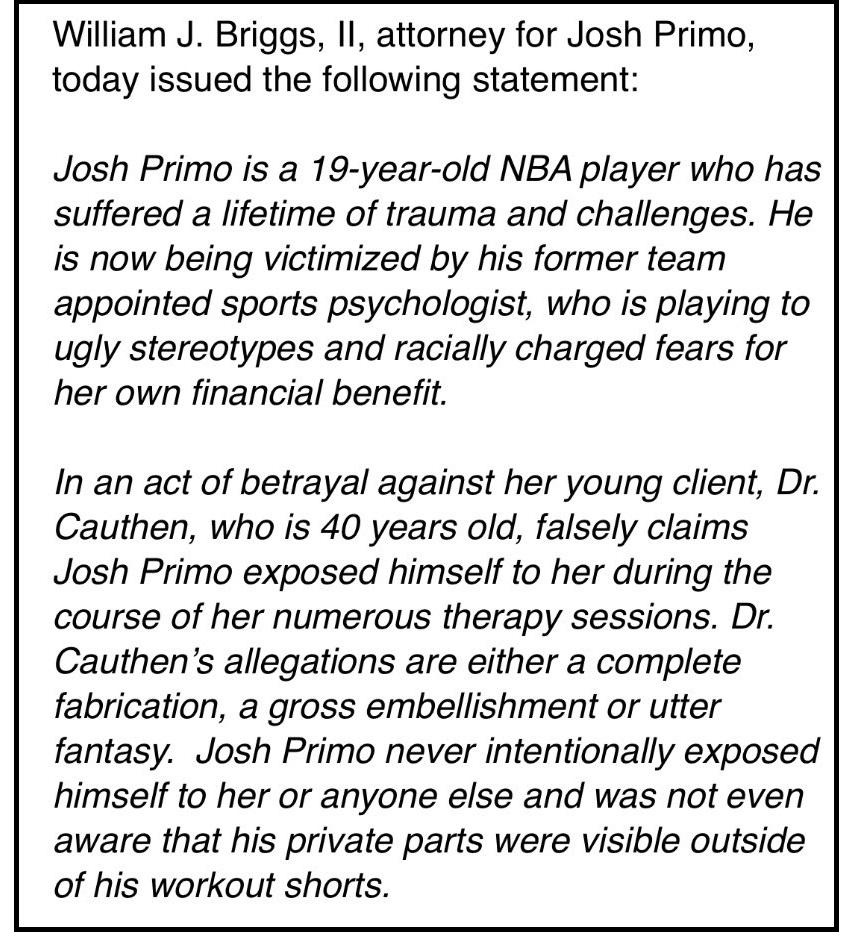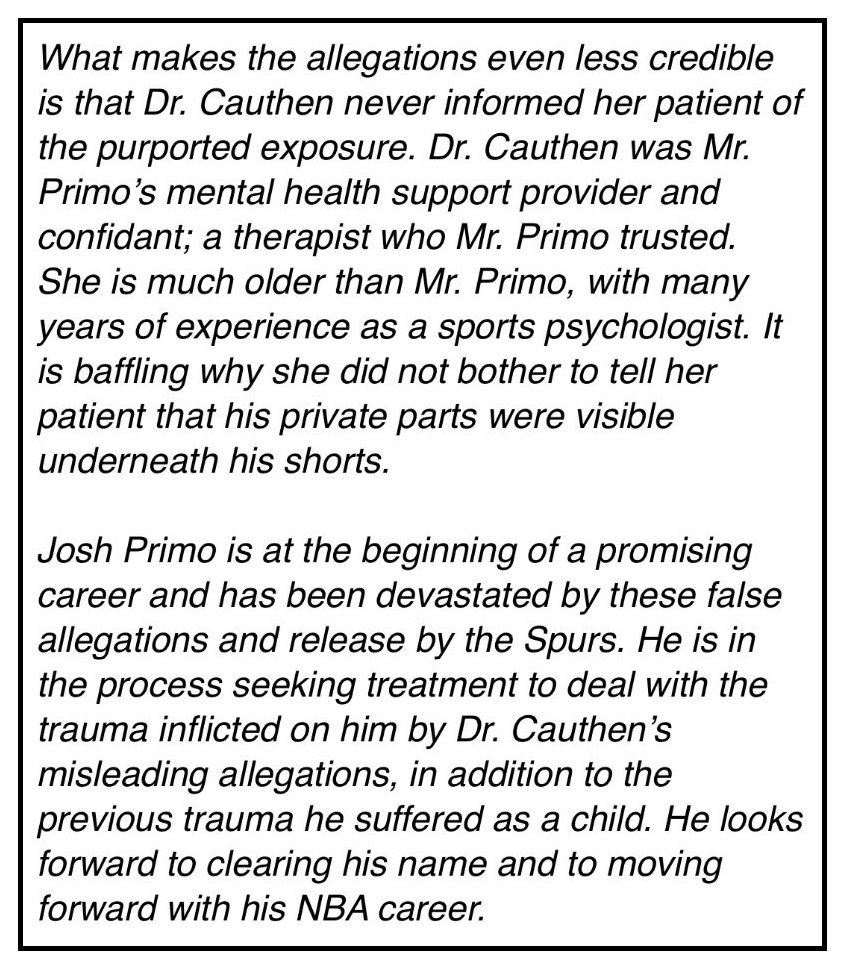 Spurs CEO RC Buford also insinuated that Hillary Cauthen's claims against Josh Primo have some inaccuracies.
Perhaps one of the most interesting claims about the situation is the allegation that Greg Popovich had no idea about Hillary Cauthen claims until the situation went public. That could entail a bit of a disconnect within the ranks of Spurs staff.
If Josh Primo really did purposely expose himself to her hopefully justice is served, but if she's lying hopefully she's punished for that and he's able to continue his career.
At the moment it's really tough to pass judgement since both sides are saying very different things. It would be interesting to know what type of trauma Josh Primo allegedly went through, but it's understandable why that's being kept private at the moment.