It's no secret that Joe Biden and Donald Trump aren't fond of each other, at least in the political sense. Over the past few years they have always been at each others necks with all kinds witty disses. Whether it was Trump calling Joe Biden 'Sleepy joe', or Biden making fun of Trump's futile efforts to overturn the election they have had some hilarious things to say about each other. Recently Joe Biden coined a new term to describe Donald Trump, which led to a hilarious reaction from the former president.
Donald Trump's Lord of The Rings Meme Response to Joe Biden's 'MAGA King' Diss Goes Viral
During a recent interview Joe Biden criticized Donald Trump's alleged inability to decrease the United State's massive spending deficit while he was president. While slighting him he didn't call his predecessor by name, rather Joe Biden called Donald Trump the 'MAGA King' in a condescending tone. In his own words he said, 'Under my predecessor, the great MAGA king, the deficit increased every single year that he was president'.
One of the easiest ways to take the power away from a term meant to disrespect you is to relish that phrase and make it your own. For example black anime fans did this when racist anime fans created a new term to describe them. It seems like Donald Trump employed this technique by using the 'MAGA King' nickname to his advantage. On his still growing 'Truth Social' platform Donald Trump posted a Lord of the Rings meme with his face photoshopped on the main character. He captioned the meme 'Return of the MAGA King'.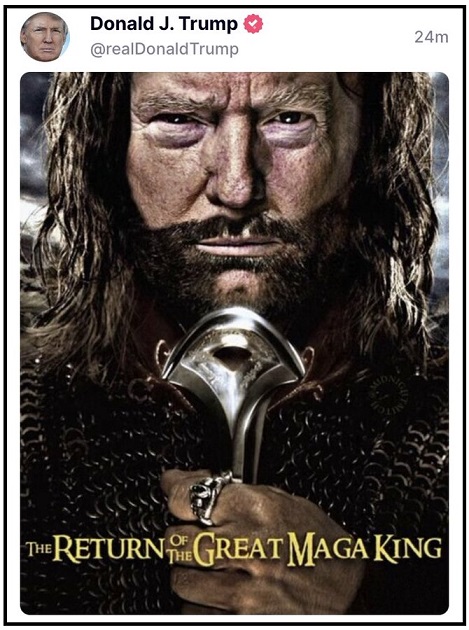 Whoever wrote Joe Biden's speech deserves some props, because the 'MAGA King' nickname is super hilarious. Likewise the person who made that Lord of Rings meme for Donald Trump deserves props too, because that is equally as funny. The wittiness from both sides cancelled out in this situation.
What Donald Trump did by embracing the 'MAGA King' diss is what Joe Biden should have done when the 'Let's Go Brandon' phrase went viral. By embracing it he could have diminished how disrespectful it's supposed to be.