The battle between Kim Kardashian and Kanye West over their children and how they should be raised as now taken a possibly deadly turn. As you probably know it was few days ago that two got into a public spar over whether their daughter North should be on TikTok. Against Kanye West's wishes Kim Kardashian made North a TikTok account, and all hell broke lose. Kanye West accused Kim Kardashian of kidnapping his daughter, and now she has fired back with a controversial claim of her own allegedly.
Did Kanye West Put a Hit on Kim Kardashian? Details on Why People Think Kanye West is Trying to Kill Kim Kardashian
In a recent post on Instagram it was alleged that Kanye West put a hit on Kim Kardashian allegedly. In the post Kanye West said the Kim Kardashian is accusing him of doing this, but of course he is denying this is true. In his eyes he sees this murder for hire accusation as another ploy from Kim Kardashian to try ruining a black man's life.
Remember Kim Kardashian allegedly accused Kanye West of being on drugs when he tried to go to his daughter's birthday party, and allegedly accused him of trying to steal when he was spending quality time with his son. Now the accusations have allegedly gone further to Kanye West trying to kill Kim Kardashian. Who is the evil one in this situation? Is Kim Kardashian telling the truth? Is her life really in danger?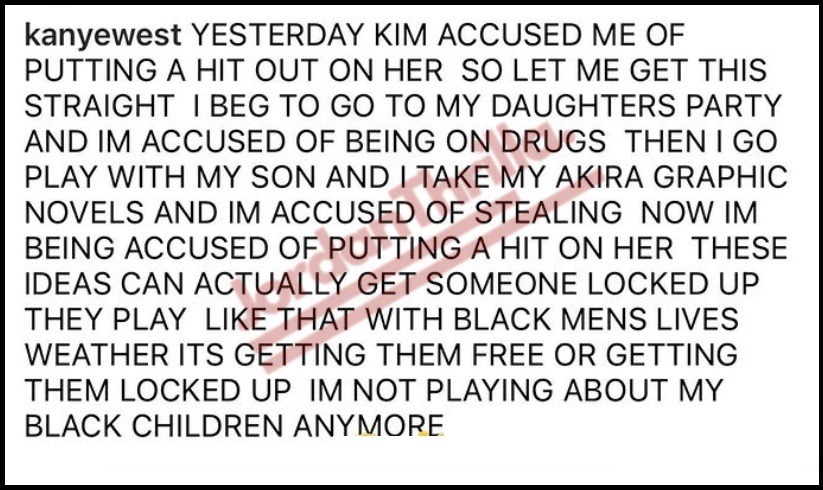 The public battle between these two turned ugly after the birthday party incident Kanye West posted a video about. In that footage he alluded to the same message he conveying in the post above that Kim Kardashian is trying to tarnish his image, and ruin his life.
Part 2.
If Kanye West put a hit on Kim Kardashian that would easily be the worst career decision he has ever made. It was also be ironic, because her dad was OJ Simpson's lawyer in a case where they trying to prove he didn't murder his wife. If there's any truth to the accusation Kanye could end up in jail. However, it doesn't seem likely that Kanye West would do something that crazy, then again he has done crazy things before.
Hopefully Kanye West trying to murder Kim Kardashian is a completely false allegation. Prayers up for their kids, because they are the ones that suffer most with their parents battling it out like this.