About two months ago on March 5th it was first reported that Brittney Griner was arrested in Russia, and charged with smuggling drugs through Sheremetyevo airport in Moscow. Russian authorities accused her of having weed vape cartridges in the form of hashish oil inside her luggage. On March 17 the Russian court decided to extend her confinement by two months with a supposed released date of May 19. Sadly in a court hearing today the world got more terrible news about her future.
Photo of Brittney Griner Depressed in Russian Court Sparks Intense Reactions
According to a report from BBC news, Russia has extended Brittney Griner's detention for another month. Instead of being released on May 19, she would presumably be released on June 19. The circumstances around why her confinement was extended are unknown, but it is well known that Russia is very harsh when it comes to drug related crimes. A photo of a depressed Brittney Griner holding her head down in Russian court as her detainment was extended has filled the entire nation with sorrow. We can all feel her pain.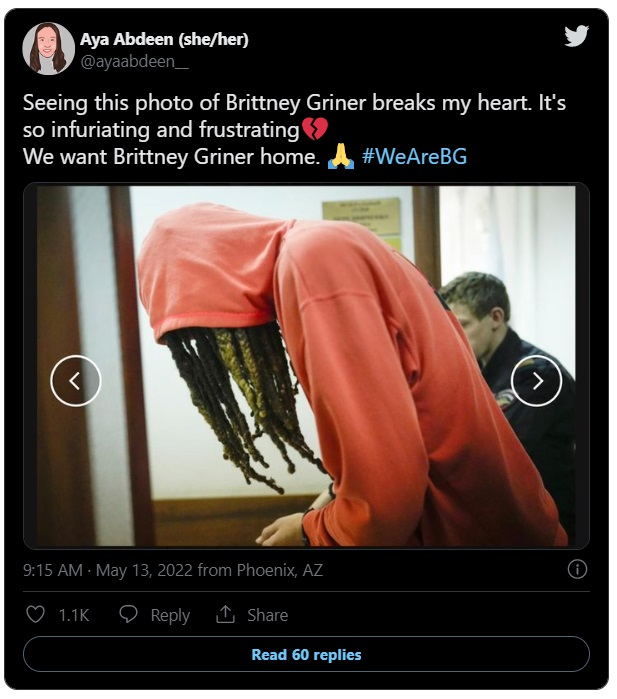 Details About Hash Oil and Why Brittney Griner is Facing 10 Years in Prison
As aforementioned Russian authorities claim Brittney Griner had hash oil, which is an oleoresin created after extraction from marijuana. It is an extremely concentrated substance containing tetrahydrocannabinol, cannabidiol, and other cannabinoids. A video of the moment they allegedly found the illegal substance was released on social media. There hasn't been any message from Griner's legal team denying she actually had the substance.
According to Russia's drug laws, possession of less than 6 grams of marijuana is considered an "administrative offense", which can carry a hefty fine or up to 15 days in jail. Possession of more than 6 grams of marijuana is a criminal offense that can result in 3 years or more in prison. Reports state that Brittney Griner is facing 10 years in prison, which indicates she either had more than 6 grams marijuana in form of hashish oil, or she's facing extra time since the alleged drugs were brought across country lines.
Brittney Griner Will Miss Part or All of the 2022 WNBA Season
The WNBA season starts on May 16, which means that Brittney Griner is guaranteed to miss more than one month. With her detainment being extended again it's highly possible she misses the entire WNBA season. Luckily the NBA and WNBA are standing behind her 100%, so she won't face any type of fines from the league when she's back in America.
Prayers up for Britney Griner. Sure marijuana is illegal in Russia, but she doesn't deserve this type of treatment.