Brie Larson and Gal Gadot's friendship is possibly over, and all it took was a few controversial posts on social media. It appears Brie Larson unfollowed Gal Gadot on Instagram after a tweet and Facebook post supporting for Israel. It's alleged that Gal Gadot supported Israeli forces murdering a group of children playing soccer on Gaza Beach.
In a lengthy message on Twitter Gal Gadot talked about how the war in Israel has left her heart broken. She proclaimed that Israel deserved to live as a free nation. At the core of her message she wanted peace for both sides. What was missing from her message was a mention of Palestinians, which some people see as disrespect and disregard.
After all the controversy people noticed that Brie Larson unfollowed Gal Gadot on IG, which was confirmed by going to her page and searching through the people she is following, which you will see below.
Below was one of the reactions to the alleged Gal Gadot Facebook post supporting Israel murdering children playing soccer. According to reports on the incident the Israel military launched missiles at a group of children playing soccer on Gaza Beach without identifying their target beforehand.
Many people found her alleged support for that heinous incident ironic, because in the WW1984 movie Wonder Woman saved children playing soccer.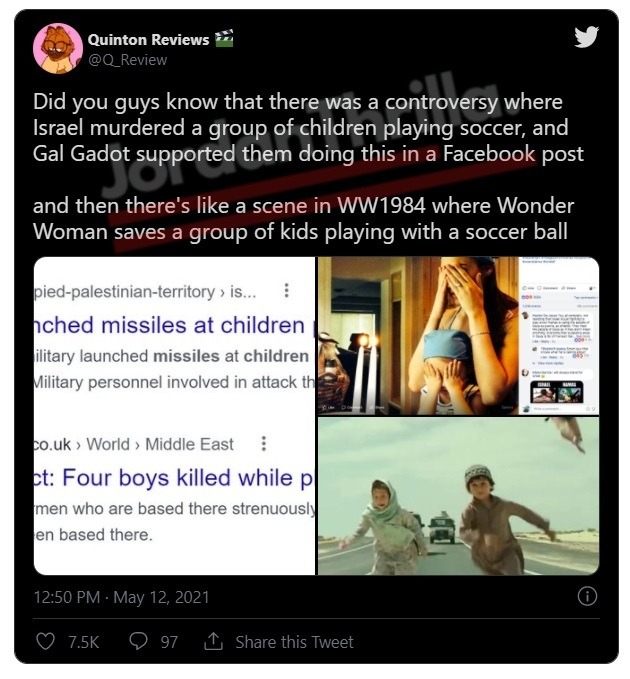 Here is the proof that Brie Larson unfollowed Gal Gadot.
In real life and Hollywood politics are one of the main things that can come between people's friendships. This is why a lot of people like to to keep political discussion off limits when they start dating someone new, or are hanging out with close friends. Considering Gal Gadot is from Israel it's no surprise she is staying loyal to her country during a politically controversial time, but it's clear she's also alienating some of the people that have been close to her for years.
Brie Larson unfollowing Gal Gadot on Instagram could be a sign that her political support for Israel could hamper her fanbase here in America. Will Hollywood turn on her?
Author: JordanThrilla Staff