About one week ago a black woman named Roda went viral on social media after she posted a video of herself claiming that a man hit her in the face with a brick after she refused to give him her number. Roda posted footage from the scene of the incident, and in her hospital room. According to reports the assault happened at an unknown location in Houston, Texas. However, there is now a viral rumor floating around that it may have actually been a GoFundMe scam that was pulled off with help of a saline injection.
The Alleged Tragic Story of How a Man Hit the Black Woman Named Roda with a Brick Because She Didn't Give Him Her Number
In the video, which was viewed millions of times, the woman showed the right side of her face, which is very swollen and bruised. She tearfully explained how a man approached her and asked for her number. When she declined, he became angry and hit her with a brick that he had in his hand, allegedly.
That woman was not only hurt by the man who hit her, but also by the people around her. She was surrounded by other men who allegedly witnessed the attack, but none of them intervened or helped her based on her story.
She says that the man who hit her got into a car and drove away. She explained that she was afraid that he will never be caught, or face justice for what he did to her.
The footage she posted from her hospital room was absolutely heartbreaking. She ranted about how she has never hurt anyone in her life, and never did anything mean, which left her confused as to why something so bad happened to her.
It's not clear what type of injuries she sustained, but when the side of your face is that swollen there is usually some broken bones. Take for example how the side of Joel Embiid's face looked after he was accidentally elbowed by Pascal Siakam during the NBA playoffs two years ago.
The video sparked outrage and sympathy from many people online, who expressed their support and solidarity with the woman. Many people condemned the violence and misogyny that black women face on a daily basis, and have called for the authorities to find and arrest the attacker.
The Houston Police Department never confirmed or denied whether they are aware of, or investigating the case. They still have not released any statement or information regarding the video, or the woman's allegations.
Details Behind Rumor Alleging 'Brick Lady' Roda Made Up Story About Getting Hit with Brick in a Saline Injection GoFundMe Scam
As you saw in the footage above, Roda claimed that the men around her did not help even though they allegedly witnessed her getting hit with the brick. According to a viral rumor it's possible they didn't help, because she was never actually hit with a brick.
Some people are now claiming that the woman dubbed the "Brick Lady" injected her face with saline, to make it appear she was assaulted, in order to make money by creating a GoFundMe page once she gained sympathy from the public.
Was it strange that she didn't have any bruises or skin abrasions from the alleged brick? That's one of the questions fueling the viral rumor.
The GoFundMe page titled 'Help Roda Recover', which was created by her friend Kiara Davis has now raised over $40,000. At the moment it has not been taken down, so it's not clear whether or not the rumors are true. Usually GoFundMe takes down any fundraiser that is deemed to be a scam, so some people believe that could be a sign the allegations have no merit.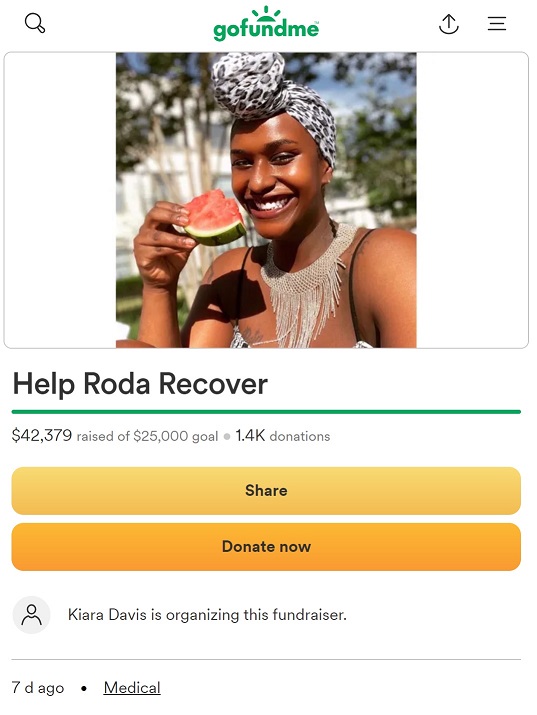 If the Brick Lady aka Roda really did inject her face with saline, then she deserves an Oscar, because her acting in those videos above seemed very authentic. If it was indeed a GoFundMe scam it's tough to actually be mad about it, because that would take some very elaborate planning, and psychological skills that are almost professional level.
Honestly, it would be good news to know she wasn't actually hit by a brick, because no woman should have to go through something like that. Still yet to scam people like that would be very messed up.