John Cena, the WWE superstar and Hollywood actor, has recently sparked a lot of speculation about his physique after a picture of him looking much smaller and older than he used to be surfaced online. The picture, which shows Cena posing with another wrestler, has gone viral on social media, with many people wondering if Cena used to take human growth hormone (HGH) and has now stopped, causing his drastic transformation.
HGH is a natural hormone produced by the pituitary gland that stimulates growth and cell regeneration in children and adults. It also helps to maintain muscle mass, bone density, and metabolism. However, some people use synthetic HGH as a performance-enhancing drug or an anti-aging supplement, hoping to gain an edge in sports or to reverse the signs of aging. Synthetic HGH is only available by prescription and is regulated by the FDA for specific medical conditions, such as growth hormone deficiency or muscle wasting disease.
Some of the signs that Cena may have used HGH in the past include his large and muscular physique, his flushed skin, his blocky appearance, and his enlarged skull. These are some of the common side effects of HGH use, as reported by various sources. However, there is no concrete evidence that Cena actually took HGH, and he has always denied any steroid use in interviews. He has also attributed his impressive body to a strict diet and workout regime.
Some of the reasons why Cena may have stopped using HGH, if he ever did, include the health risks associated with it, such as nerve, muscle, or joint pain, swelling of the arms and legs, high cholesterol levels, diabetes, heart disease, and cancer. Another reason could be the legal implications of using HGH without a prescription or for non-medical purposes. HGH is classified as a controlled substance by the DEA, and is banned by most sports organizations. Using or possessing HGH illegally can result in fines or imprisonment.
Cena's new look could also be explained by other factors, such as natural aging, weight loss, stress, or illness. It is possible that Cena has simply decided to adopt a more natural and healthy lifestyle, or that he has changed his appearance for a movie role. Whatever the case may be, Cena has not commented on the speculation about his HGH use or his new look.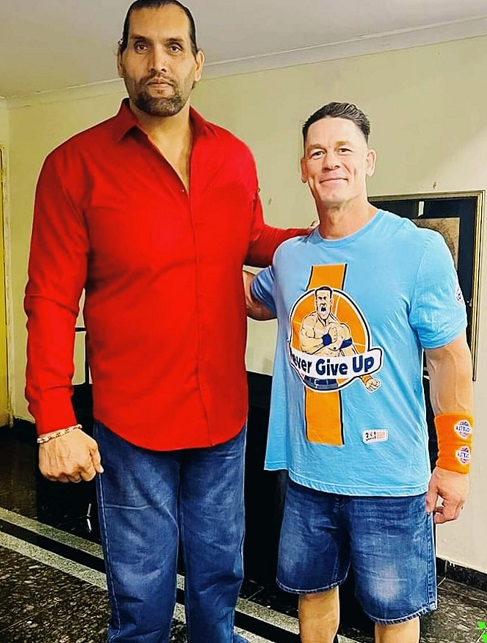 John Cena's new look has sparked a lot of debate about whether he used to take HGH and has now quit. Some people on social media are convinced that the picture is proof that Cena stopped using HGH, and that his new look is actually how he would look if he was never taking HGH.
However, as aforementioned there is no solid evidence that Cena ever took HGH, and he has always denied any steroid use. His new look could also be due to other reasons unrelated to HGH. Therefore, it is unfair to judge Cena based on his appearance alone, and it is better to respect his privacy and personal choices.