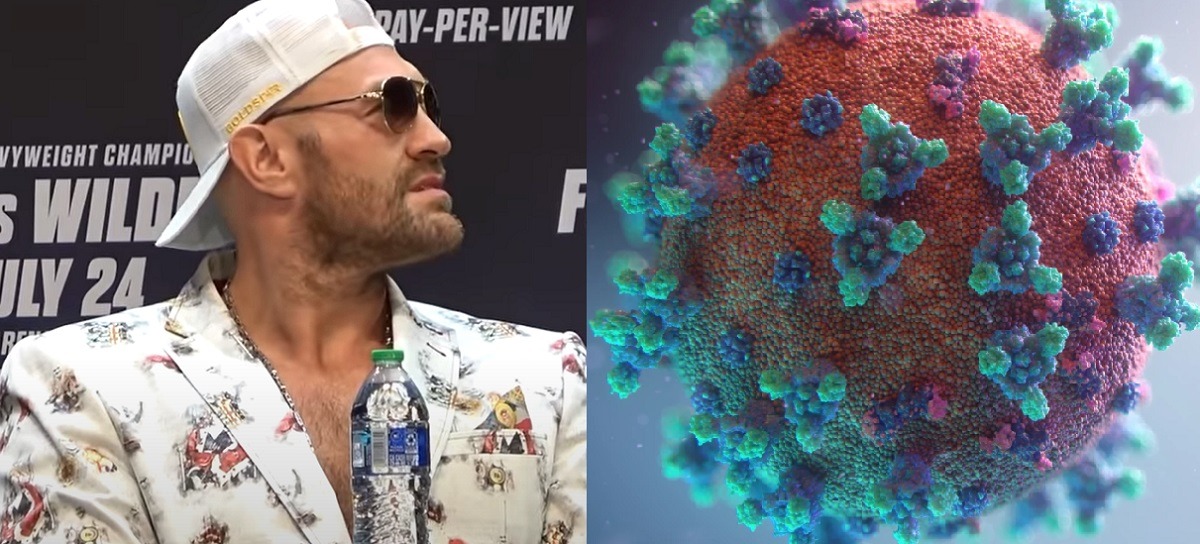 Is Tyson Fury faking a COVID-19 infection to avoid fighting Deontay Wilder? With sad news that the fight is almost guaranteed to be postponed after COVID outbreak in Tyson Fury's camp, some people are left wondering how it happened.
Although Tyson Fury tested positive for COVID-19, early reports from his camp are said he was vaccinated. At the moment it's being said he is allegedly feeling sick, but not very sick. When you take into account the fact that Tyson Fury never wanted to fight Deontay Wilder a third time, it's easy to see this is technically what he wanted to happen. He doesn't have to fight, and people can't say he chickened out.
At their faceoff you could see pure fear in the eyes of Tyson Fury. You could sense that he knew Deontay Wilder was really going to try and hurt him in the ring. If you believe the glove cheating rumors, you could see why Fury would want to avoid this fight at all costs since he wouldn't be able to cheat again. If he lost the fight it would put the integrity of his entire career in jeopardy.
In this interview below you could hear Deontay Wilder warning people that their stomachs wouldn't be able to handle what would happen in the ring on July 24th. Imagine what Tyson Fury was thinking watching this if he really cheated in their second their match to win. He was probably brainstorming ways he could avoid stepping in the ring without tarnishing his image. Theoretically speaking that could have been the moment the idea of Tyson Fury faking a COVID diagnosis to avoid Deontay Wilder started to coming into place.
While some people are saying the fight is only postponed for a later date, Eddie Hearn has insinuated it could be cancelled completely. In a viral tweet he said Deontay Wilder would fight Dillian Whyte if Tyson Fury was unable to compete. For Fury this would mean mission accomplished, because he doesn't have fight a man that literally wants to end his career, and the media can't drag him since it would be reported as a COVID-19 infection.
It's probably a bit far fetched, but the conspiracy theory Tyson Fury is faking a COVID-19 infection to avoid fighting Deontay Wilder is not completely unbelievable. If he really cheated with those gloves, something like this would be right up his alley too.
Author: JordanThrilla Staff