Zach Wilson's NFL career is off to a very rough start, and it got worse when he went up against Patriots defense today. On his first two passes of the game Zach Wilson threw two interceptions in a row. Most people thought he would tighten up, but he would later throw a third interception bringing his total to three in the first half alone.
Was Bill Belichick Laughing at Zach Wilson aka Mr. INT during Patriots vs Jets?
After his fourth interception the camera appeared to show Bill Belichick laughing at Zach Wilson's struggles. It wasn't hardcore laughter, but there was a sly smile on the face of the usually stoic or angry looking Bill Belichick. The commentators described it as Bill Belichick holding back laughter at Zach Wilson's performance.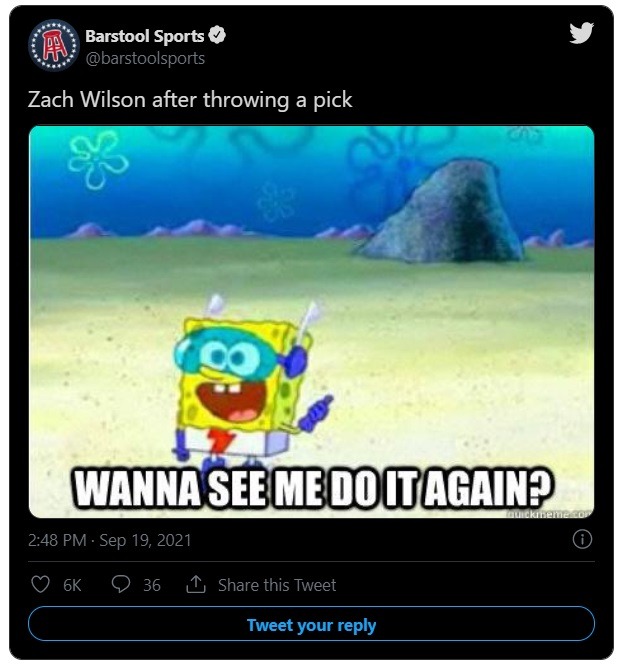 Patriots Give Zach Wilson New Nickname
Things got so bad that New England Patriots dubbed Zach Wilson 'Mr. INT'.
MR INT STRIKES AGAIN

📺: @NFLonCBS / Patriots app pic.twitter.com/U9J297VRNG

— New England Patriots (@Patriots) September 19, 2021
On the game so far Zach Wilson has a completion percentage of 59% with 136 yards, and a woeful 36.6 passer rating. When you play so bad it makes emotionless Bill Belichick smile, you know you are down bad for real.
Will Zach Wilson's mother call out Bill Belichick for being mean? Zach Wilson's 'Mr. Interception' nickname will only hold strong if he keeps playing bad, so he controls his own social media destiny.
Author: JordanThrilla Staff