A photo of Cleveland Browns star running back Nick Chubb's knee injury has gone viral on social media due to its shocking severity. The photo shows Chubb's left knee bent at a 90-degree angle in the wrong direction, while his leg is trapped between two players.
The injury occurred in the second quarter of the Browns' Monday Night Football game against the Pittsburgh Steelers, when Steelers safety Minkah Fitzpatrick made a low tackle on Chubb near the goal line. The injury was so gruesome that the ESPN commentators during the game said that they would not show a replay of it on TV, out of respect for Chubb and his family.
However, when the injury was played on the jumbotron at the Acrisure Stadium in Pittsburgh, the crowd let out a collective gasp, as they witnessed the horrific sight of Chubb's knee. The photo of the injury was captured by a fan who took a screenshot his large TV while the game was in progress.
The knee injury looks like it could be career-ending for Chubb, who has been one of the best running backs in the NFL for the past four seasons. He holds the record for the longest run in Browns history, with a 92-yard touchdown run against the Atlanta Falcons in 2018.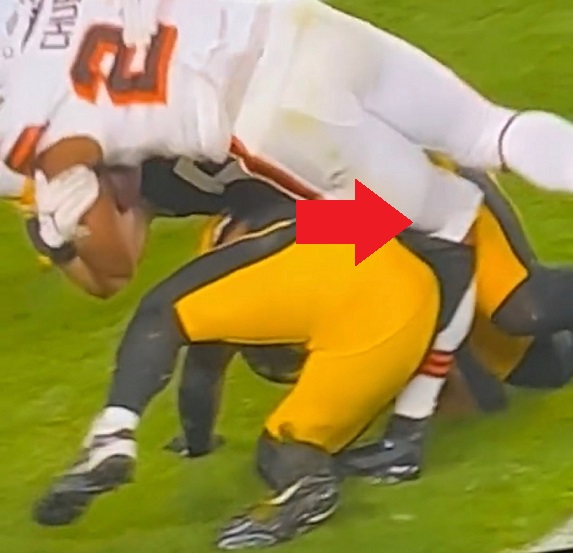 At first glance his Nick Chubb's knee injury looks similar to the infamous Marcus Lattimore injury that derailed his career before he ever got the NFL. His injury was also caused by a low tackle.
The Browns announced that Chubb would miss the rest of the game after he was carted off the field. The full extent of his injury is still unknown, as he will undergo further tests and evaluations. However, it has already been announced that he is expected to miss the rest of the season.
The Browns lost the game to the Steelers, 22-26, dropping to 1-1 on the season. The team and its fans are hoping for a speedy recovery for Chubb, who is widely regarded as a humble and hard-working leader on and off the field.