The NBA In-Season Tournament has been full of surprises and drama, but none more than the jersey exchange between two French stars, Victor Wembanyama of the San Antonio Spurs and Rudy Gobert of the Minnesota Timberwolves. The two centers faced each other for the first time in their group play game on Friday, and showed mutual respect and admiration after the game by swapping their jerseys, but was it all facade on Wembanyama's part?
Was Victor Wembanyama Caught Throwing Away Rudy Gobert's Jersey
You see, what stood out was not the jersey exchange itself, but something unexpected that happened after. As he was walking out of the arena, it appeared that Wembanyama tossed Rudy Gobert's jersey towards the floor, or to the arena staff. Many people were shocked, because it almost seemed like Wembanyama threw away Gobert's jersey like trash.
Some fans on social media are saying that it might be Wembanyama's first unhumble moment, as he disrespected his fellow countryman and mentor. Wembanyama, who was selected first overall by the Spurs in the 2023 NBA draft, has been praised for his humility and work ethic, as well as his incredible talent and potential. He has been compared to Gobert, who is a three-time NBA Defensive Player of the Year and a four-time All-NBA Team member.
However, others are defending Wembanyama, saying that he did not mean to disrespect Gobert, and that he was simply handing the jersey to a staff member who would take care of it. Take a look at the at this footage, and you be the judge of what took place. Was this a Dejounte Murray vs Pablo Banchero moment?
Some people feel that Victor wasn't looking back as he tossed Gobert's jersey to the person, almost as if he didn't care where it landed. Was Wembanyama "throwing it away" when he threw it to that person?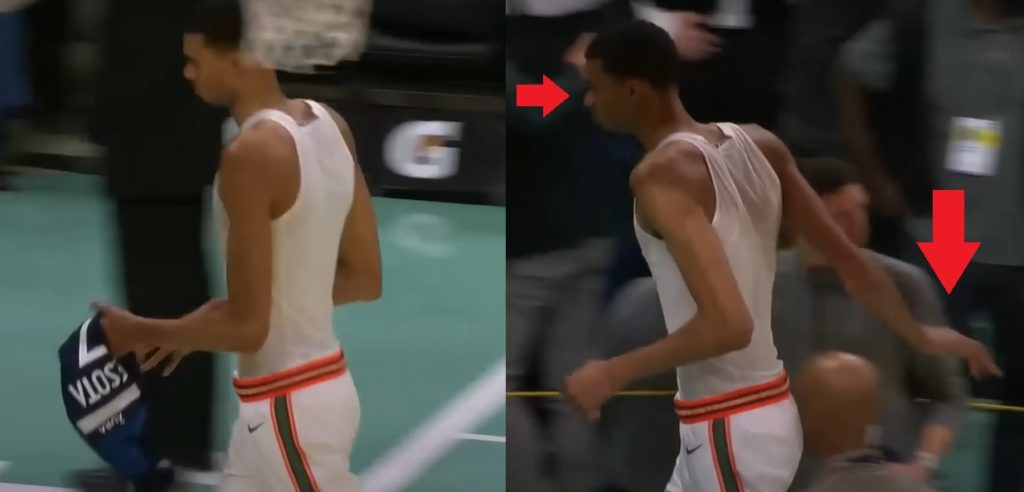 Wembanyama has not commented on the incident yet, but he might address it in his next media availability. Gobert, who is known for his outspokenness and honesty, has also not reacted to the controversy. The two players will meet again this season, and maybe that matchup might be a bit more personal from a competitive and emotional standpoint.