The sports world is mourning the loss of former NFL quarterback Ryan Mallett, who died on Tuesday in a drowning accident at a beach in Destin, Florida. He was only 35 years old.
Mallett was a star player at the University of Arkansas, where he set several school records and led the Razorbacks to two bowl victories. He was drafted by the New England Patriots in the third round of the 2011 NFL draft and played for five seasons in the league, also spending time with the Houston Texans and the Baltimore Ravens.
How White Hall School District Reacted to Ryan Mallet's Death
After his NFL career ended in 2017, Mallett returned to his home state of Arkansas and became the head football coach for the White Hall Bulldogs in White Hall, Arkansas. He also taught physical education and health at the school.
"It is with great sadness that we share the loss of Coach Ryan Mallett," the White Hall School District said in a statement. "Coach Mallett was a beloved coach and educator. We ask that you remember his family, team, students, fellow coaches, and the White Hall School District staff in your prayers."
Did a Rip Current Cause Ryan Mallet to Drown?
The details on how Ryan Mallet drowned are just tragic to hear. According to reports from Deltaplex News and CNN , Mallett was swimming with a group of people near a sandbar when they began to struggle to make it back to shore. Mallett went under the water and was not breathing when lifeguards pulled him out. He was taken to a local hospital, where he was pronounced dead.
The Okaloosa County Sheriff's Office said in a news release that the incident is under investigation and that an autopsy will be performed to determine the cause of death.
Mallett's death is one of several drowning fatalities that have occurred along the Gulf Coast in recent days due to dangerous rip currents, according to some outlets. CNN reported that at least 11 people have died in less than two weeks from drowning in the Gulf of Mexico.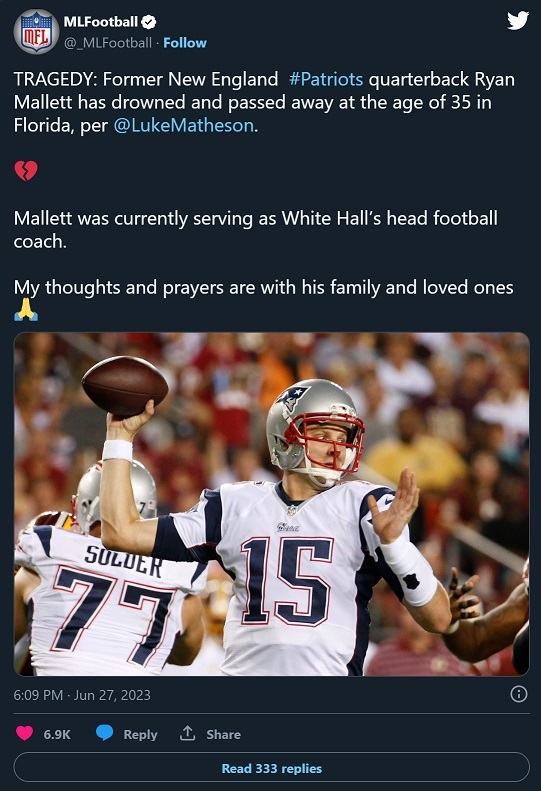 The NFL World Reacts to Ryan Mallet's Death
Mallett's former NFL teams and teammates expressed their condolences and paid tribute to him on social media.
"The New England Patriots are deeply saddened to learn of the sudden and unexpected passing of former quarterback Ryan Mallett," the Patriots said on Twitter. "Our thoughts are with the Mallett family, his former teammates and all who are mourning his loss."
J.J. Watt, who played with Mallett on the Texans, tweeted: "Gone way too soon. Horrible news. Rest In Peace Ryan."
The Baltimore Ravens also posted a message on Twitter: "We are deeply saddened to learn of Ryan Mallett's passing. Our thoughts go out to his family and friends".
Prayers up for everyone affected by this tragic situation.