Nike is facing backlash for hiring Dylan Mulvaney as new brand ambassador for their sports bras. Mulvaney, a transgender woman who is best known for the TikTok series "Days of Girlhood", where she documents his transition from male to female, announced her partnership with the sportswear giant on Instagram, posing in a Nike sports bra and leggings.
People Think Nike is 'Trolling Women' by Hiring Transgender Dylan Mulvaney to Promote Women's Products
The posts received mixed reactions from fans and critics alike. Some praised Nike for supporting diversity and inclusion, while others accused the company of trolling biological women and promoting an unfair advantage in sports. Mulvaney, who transitioned in 2021 after retiring from swimming, has been vocal about her struggles with gender dysphoria and body image. She said she was honored to work with Nike and hoped to inspire other trans women to embrace their femininity and fitness.
However, not everyone was happy with Mulvaney's new role. Some commenters argued that she was not a real woman and that she had no right to represent a product designed for female athletics. Some people even claimed that Nike is setting women back by letting a biological man take their employment oppturnities away. Twitter user Nick Sortor wrote, "Women fought for years to have more employment opportunities. Now men have taken those jobs back". Twitter user Malcolm Flex wrote "Now even Nike is trolling women with a Dylan Mulvaney Sponsorship. Patriarchy up by 29 at the half".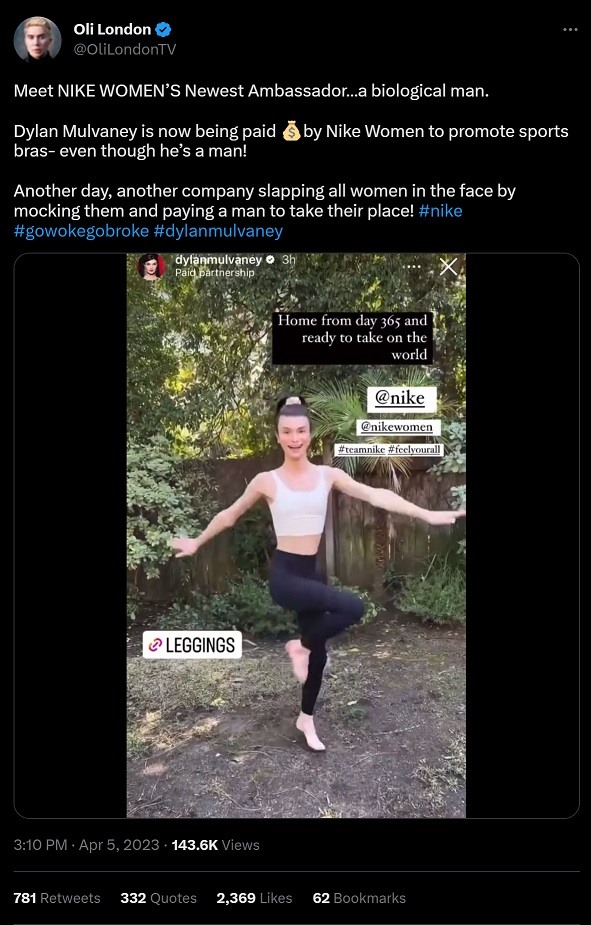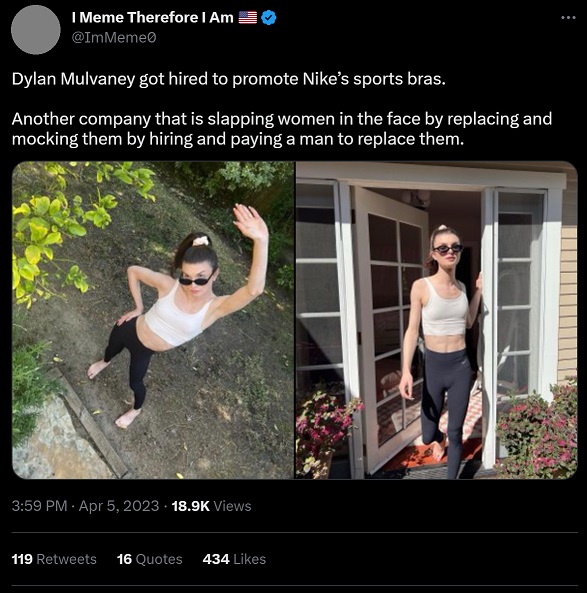 Nike has not responded to the backlash yet, but so far the company seems to be standing by its decision and is proud of its partnership with Mulvaney. At the end of the day they probably knew that doing something that many would deem controversial would bring more publicity to the products that they are promoting. Factoring in a probable increase in revenue from the LGBTQ demographic, and from a business standpoint it will likely end up being a lucrative decision for everyone involved.
Amidst all the words of praise, and all the hateful rhetoric, are those on social media who think it's crazy that people seem more outraged about Nike hiring a transgender woman to promote sports bras and other female products, than they do about the alleged child labor and inhumane working conditions they are allegedly using in the Chinese factories that produce their products.
What do you think are people overreacting to Nike's decision?