Social media is a powerful tool that can be used both positively and negatively. Recently, it was used to spread a message that has caused a massive stir within the entertainment industry. Rapper Rubi Rose recently posted a tweet that allegedly suggested rapper DDG had allowed his now-girlfriend, Halle, to wear her clothes, and she insulted her with a disrespectful term.
Does DDG have Halle Bailey wearing Rubi Rose's clothing?
The tweet was met with a huge backlash from Halle's fans, due to its offensive language, which has led some to question the impact of insinuations on social media. Rubi Rose wrote in her tweet, "Having your b**** wear my clothes is crazy". The tweet was allegedly in reference to a video of Halle, which allegedly showed her wearing something that belonged to Rubi Rose, or so she claims. Instantly, people started responding to the tweet with anger that Rubi Rose called Halle a "b****".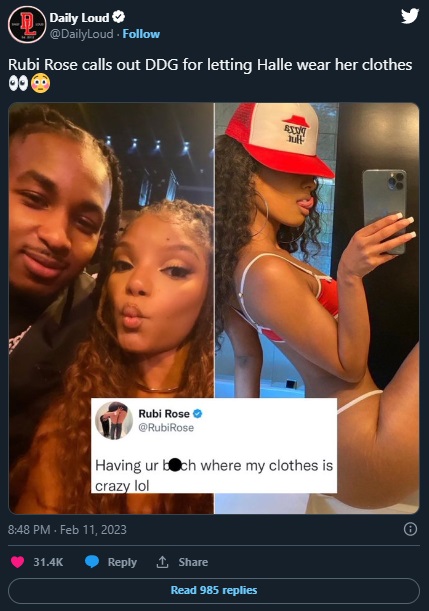 Does Video Show that DDG Kicked Rubi Rose Out His House After He Smashed Her?
As her disrespectful tweet began trending upset Halle fans posted footage that allegedly shows DDG locked Rubi Rose out his house after they hooked up. The footage shows her knocking on his front door with a caption saying "JK it's Rubi".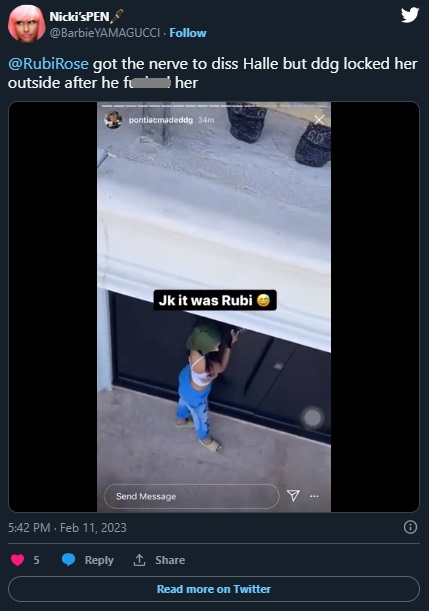 Fans of both women have been extremely vocal on Twitter, with some accusing DDG of being a "player" and others claiming that Rubi Rose was wrong to attack Halle with such a derogatory term. If he really does have Halle wearing Rubi Rose's clothes does that look worse for him, her, or does it not matter at all?