The South African rapper AKA, born Kiernan Forbes, was tragically shot and killed on the evening of February 10, 2023, in Durban. According to South African police, he and his friend Tebello Motsoane were walking to their car after leaving a restaurant when they were shot at point blank range by two men. Although police are still investigating the motive of the attack, conspiracy theories about what happened have gone viral.
Is AKA's Murder Connected to the Death of His Fiancé Anele Tembe? Conspiracy Theories Trend After AKA is Shot Dead Two Weeks Before His New Album Release
The timing of AKA's death is particularly suspicious. He was shot and killed only two weeks before the release of his new album, "Mass Country". This has led conspiracy theorists to speculate his death was a deliberate attempt to disrupt the release of the album.
In addition circumstances surrounding the death of AKA's fiancé Anele Tembe, who fell from the tenth floor of a Pepperclub Hotel in Cape Town in 2021, has also raised some questions. Some conspiracy theorists believe that the two deaths might be connected in some way as in a revenge murder plot; however, this remains unconfirmed.
AKA Parent's React to His Murder
The death of AKA was a devastating blow to his family, especially his mother and father Toni and Lynn Forbes. They took to Twitter to share their grief, saying, "It is with extreme sadness that we acknowledge the passing of our beloved son, and confirm his untimely passing on the evening of February 10, 2023".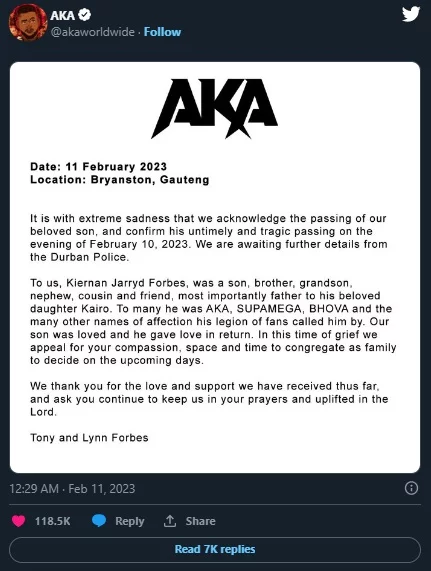 The video to AKA's hit single "Lemons (Lemonade)" amassed over 4 million views over the past few months.
The death of AKA has sparked a huge outpouring of grief from the South African rap community, as well as numerous calls for justice. The South African police have been criticised for their handling of the investigation, and many people are demanding to know why AKA and his friend were shot and killed.
Regardless of the truth, AKA's death has left a gaping hole in South African music, and his legacy will live on in the hearts and minds of South Africans.