Did Elon Musk's father Errol Musk groom his stepdaughter Jana? Elon Musk once said he wanted to have as many kids as possible, and it's apparently a trait shared with his dad. In the past Errol Musk publicly stated that a human's main purpose is to reproduce, and for him it apparently doesn't matter if you're procreating with close relatives. Naturally the revelation that Errol Musk got his stepdaughter pregnant is causing major backlash.
Details on Why Social Media Believes Elon Musk's Father Errol Musk Groomed his Stepdaughter Jana Bezuidenhout After Pregnancy News
Recently Errol Musk revealed that he's expecting a second child with his stepdaughter Jana Bezuidenhout. The age difference between them is about 41 years as Errol Musk is 76, and Jana Bezuidenhout is 35. According to reports Errol Musk raised Jana Bezuidenhout since she was 4 years old, after he got married to her mother Heide. When that marriage ended after 18 years he also lost contact with his stepdaughter, but they met again in 2017. One thing led to another an Errol Musk impregnated his stepdaughter despite the massive age difference, and their history of being relatives.
Errol Musk publicly stated that he doesn't considered Jana to be his stepdaughter, but that doesn't change the fact that she is. It also doesn't change the fact that he was raising her from the age 4 years old. As such people believe Errol Musk grooming his stepdaughter Jana Bezuidenhout is what led to them having kids.
Take a look at some reactions to the strange news about Jana Bezuidenhout getting pregnant by her stepfather Errol Musk.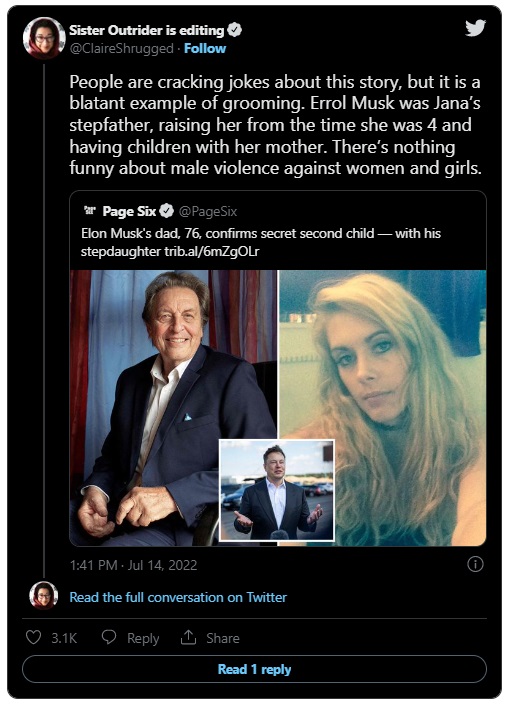 If Errol Musk groomed his stepdaughter Jana Bezuidenhout that would be tragic beyond comprehension. This situation could be similar to viral Deja Haugabook situation from last year.
One thing that for sure is that Errol Musk sure does like his women much younger similar to Elon Musk. You could say it's a 'like father like son' situation. How do you think Jana's mother Heide feels about the fact she's having kids with her ex-husband?