Tessica Brown aka Gorilla Glue Girl made it known that she may file a lawsuit, and now the company that makes the glue in question is firing back in a nice, but stern way. The Gorilla Glue company responded the Gorilla Glue Girl's lawsuit idea by shutting it down before it goes anywhere.
In a lengthy statement on twitter the Gorilla Glue Company blamed Tessica Brown for creating the hair issue she is currently experiencing. They stated that Gorilla Glue Spray adhesive is not intended for use in or on hair, as it is considered to permanent. As we all now know Tessica Brown has a permanent slick back hairstyle showing the glue is indeed effective.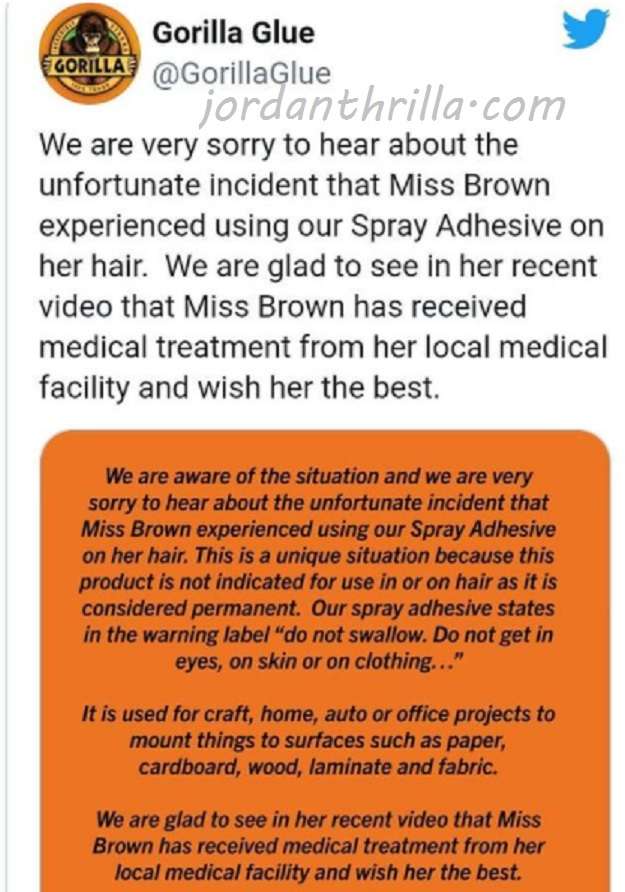 Although Gorilla Glue is shutting down Tessica Brown's attempt at a lawsuit, they did play it nice and say they are happy to see she is getting medical treatment. Also Gorilla Glue is definitely getting a lot of free press and advertisements based off this situation. When you think about the Gorilla Glue girl is walking advertisement for the company now.
Even if Tessica Brown doesn't win a lawsuit against the Gorilla Glue company, she can at least say she made a good amount of money from her GoFundme fundraiser.
Author: JordanThrilla