Around the world there are many young people doing amazing things, proving that sometimes age can be just a number in terms of professional experience. In Arkansas an 18 year old named Jaylen Smith made history after accomplishing something that even he couldn't believe at first.
How 18 Year Old Jaylen Smith Became the Youngest Black Mayor in United States History Shortly After Graduating High School
According to reports recent Earle High School graduate Jaylen Smith is now the mayor of the small Arkansas town with about 2000 people. Official poll numbers show Smith beat his opponent Nemi Matthews Sr. by 79 votes. At only 18 years old that makes Jaylen Smith the youngest black mayor in US History, a goal that entered his mind during the beginning of his senior year of high school. In a viral facebook post announcing his historic victory Smtih wrote,
"Citizens of Earle, Arkansas, it's official! I am your newly elected Mayor of Earle, Arkansas. It's Time to Build a Better Chapter of Earle, Arkansas. I would like to thank all my supporters for stepping up getting people to the polls. I am truly grateful for you all". In the comments of the post where many congratulatory comments saying things such as, "Congratulations Mr. Mayor my prayer is that you continue to seek the Lord on the welfare of the City. Take a bow sir you have made history", "You did you, stay strong and true to who you are and your beliefs", "Let's get it! Do beyond proud of you. I'm steady watching you make change happen. It's super fun to watch!".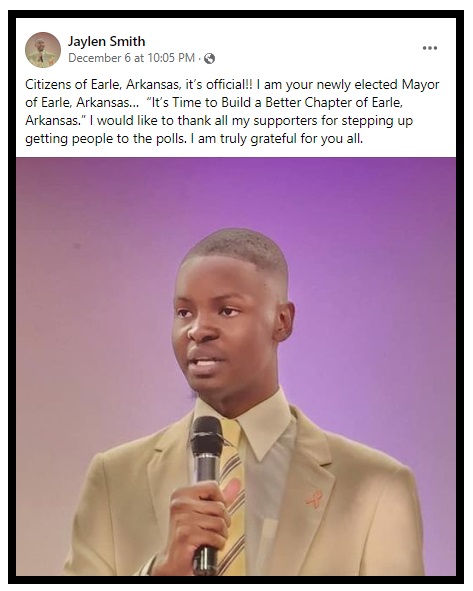 Jaylen Smith's first goals as Earle Mayor will reportedly be to bring more grocery stores to his city, and improve the transportation infrastructure. At the moment the small town is missing a major supermarket for residents to shop at.
It's safe to say he's already a man with a plan, and born leader. This amazing situation shows that anything is possible if you put your mind to it.