Back on November 4th Nike officially cancelled their shoe deal with Kyrie Irving. The cancellation of his shoe deal came after he posted a wordless tweet that had a link to a documentary called "Hebrews to Negroes: Wake Up Black America", which led to the media accusing Kyrie Irving of "saying" anti-Semitic things, despite the fact there were no words in his tweet.
Later on people discovered that Shaq played the documentary at his movie theatre a few years ago. Then Amazon released a statement saying they will not take down the documentary, because they believe in freedom of opinion and viewpoints. While Kyrie Irving was largely silent about the situation since his return to the court, he sent out a tweet a few days ago saying, "Anyone who has ever spent their hard earned money on anything I have ever released, I consider you family, and we are forever connected. It's time to show how powerful we are as a community". Now he's taking action on the court to show fans how he feels about Nike.
Kyrie Irving Protests Nike During Game by Covering Nike Logo with Message Celebrating His Contract Ending
During Nets' latest game Kyrie Irving covered the Nike swoosh logo with a message saying "I'm free Thank God I am". Kyrie Irving celebrating his split with Nike isn't surprising, because even before they cancelled his contract he was having issues with them creating shoe designs without his input. It appears Nike did Irving a favor by letting him out his contract early, take a look.
Kyrie Irving's Nike protest by covering the logo comes after the tweet that many people felt was urging fans to boycott the brand.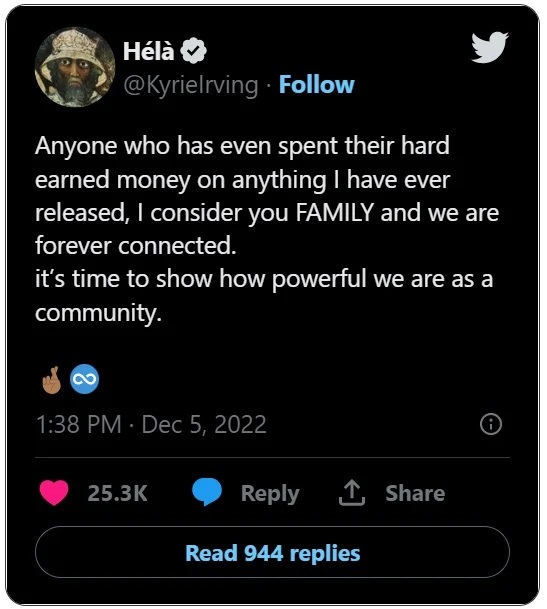 Kyrie Irving was reportedly making $11 million per year from his Nike deal, and was considered one of their top selling lines of sneakers. Now he's a sneaker free agent, which means he can take his talents to another company, or create his own shoe brand.
It would be really cool to see Kyrie Irving sign a deal with Big Baller Brand, and help another fellow black business man in Lavar Ball.