Sad news hit the music world today when it was announced James Mtume is dead at 76 years old. Due to his timeless music his death has impacted the new and older generation of fans. The circumstances surrounding his death have left many people wondering what happened.
What Was James Mtume's Cause of Death?
At the moment all reports state that James MTume's cause of death is currently unknown. His death was confirmed by his close family friend Lisa Lucas who wrote an emotional letter on Twitter announcing the tragic news saying,
"So Much loss. So much grief. Rest in Power to Uncle Mtume. My late father's partner in crime, the co-creator of the songs of my life. He was essential part of the life of the man who made me, therefore me too. Gone now. He will be dearly, eternally missed."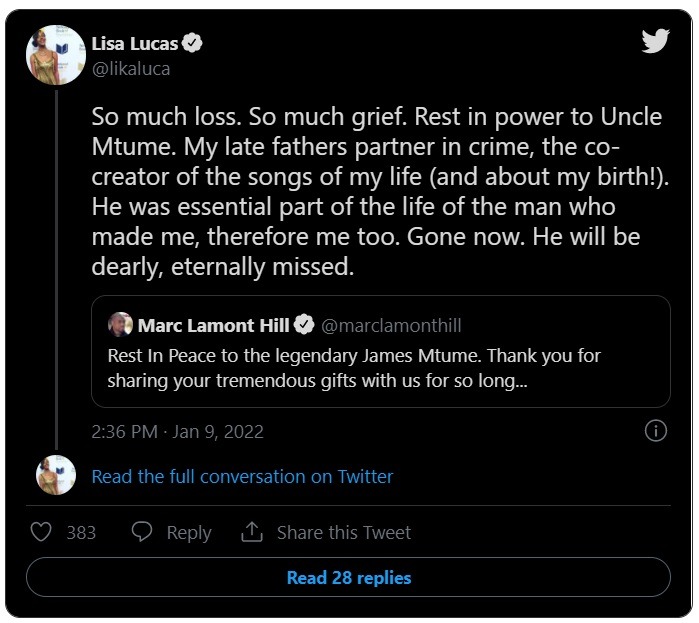 How Did James Mtume Get His 'Mtume' Name? Details on What 'Mtume' Means
James Mtume was actually born with name James Forman when he came out his mother's womb in 1946. In 1966 he joined a black empowerment group led by Hakim Jamal and Maulana Karenga. After joining this movement he was donned with new name 'James Mtume'.
The name Mtume actually means 'messenger' in Swahili.
James Mtume's Legacy in Music
Most people will remember James Mtume for his classic 1983 song 'Juicy Fruit'. In case you're wondering that's the song Biggie Smalls sampled on his hit single 'Juicy' 11 years later.
In addition James Mtume wrote classic songs for other artists such as Roberta Flack's 'The Closer I get to you'.
The 80s era was arguably the best era of music due to incredible talents like Mtume.
In 2022 we've lost many legends in the Hollywood and music world. The passing of James Mtume is definitely one of the most devastating.
James Mtume's legacy will be carried on by his son Fa Mtume.